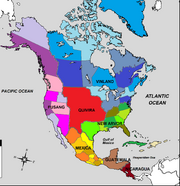 The
Republic of Quivira
is a sovereign state in central Vanaheim, bordering
Fusang
,
Vinland
,
New Arvor
and
Mexica
. It is populated mainly by native Plains Skraeling peoples, though there exist significant immigrant communities from Vinland and New Arvor which have grown up over the last century in the eastern border region.
Ad blocker interference detected!
Wikia is a free-to-use site that makes money from advertising. We have a modified experience for viewers using ad blockers

Wikia is not accessible if you've made further modifications. Remove the custom ad blocker rule(s) and the page will load as expected.