Queen Charlotte Islands (Russian America)
Talk

0
Share
Province of the Queen Charlotte Islands
Провинция Островов Королев Шарлотт
— Governorate of Alaska —
Timeline: Russian America
OTL equivalent: Haida Gwaii


Flag of the Queen Charlotte Islands

Location of the Queen Charlotte Islands

Capital
Skidegate
Other cities
Masset, Port Clements, Sandspit
Language
  official
 
English and Russian (de facto)
  others
Finnish, Haida, Norwegian
Religion
  main
 
Anglicans and Lutherans
  others
Eastern Orthodox, Shamanic
Ethnic groups
  main
 
English and Scots
  others
Creoles, Finns, Haida, Russians
Demonym
Charlottean
Area
13,145 km² (11,550 кв. врс) 
Population
1,088,973 (2007 Census) 
Admission
1945
Time zone
WHST (UTC-9)
  summer
WHDT (UTC-8)
Abbreviations
QC, О.К.Ш. (O.K.Sh.)
The Province of the Queen Charlotte Islands (Russian: Провинция Островов Королев Шарлотт, Provintsiya Ostrovov Korelev Sharlott), commonly referred to as the Queen Charlotte Islands (Острова Королевы Шарлотты, Ostrova Korelevy Sharlotty), is a governorate of Alaska. The governorate is located roughly 100 kilometers off the coast of New Caledonia.
Names
The archipelago was named in 1787 by George Dixon, who named them after his ship, the Queen Charlotte (which were named after Charlotte of Mecklenburg-Strelitz, the wife of George III). This name would be adopted by the Russian-American Company and would officially be used following the Crimean War.
As with Vancouver Island, the governorate formally refers to itself as a "province." Despite the naming difference, the Queen Charlotte Islands possess no differing status to those of Alaska's other governorates (similar to the commonwealths of the United States).
In the native Haida language, the governorate and islands are named X̱aayda gwaay (Х̑аайда гўаай), which translates as the "Islands of the Haida people."
History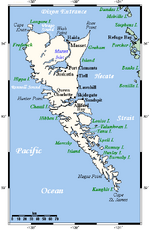 Prior to contact with Europeans, the islands were dominated by the Haida people. Though the islands were claimed by several powers, it was the United Kingdom which was able to secure the islands (which named them after the reigning Queen). The discovery of gold in the 1850s further prompted the British colonization and fortification of the islands, which were later solidified following Russia's defeat in the Crimean War. Despite these early successes, the Russian Empire would acquire the colony as part of the Columbia Purchase of 1871 (along with Columbia and Vancouver Island).
As with the rest of the former British colonies, the Queen Charlotte Islands retained much of their original English population under Russian rule. During the Alaskan Wars of the early 20th Century, the islands came under the control of the Doug-controlled Commonwealth of Columbia (with the full backing of the islands' citizens). Despite Columbia's admission into the Alaskan Democratic Federative Republic in 1935, it wouldn't be until the 1940s that the islands were formally organized into their own governorate.
Demographics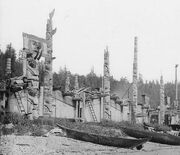 The majority of the governorate's population is comprised of those of English and Haida descent. Those of Finnish, Norwegian, Russian, Scottish, and Swedish ancestry currently form the largest minority groups. Christians make up the majority of the population, with Protestants making up the largest group. Along with Columbia and Vancouver Island, the Queen Charlotte Islands officially recognizes two languages: English and Russian. Most of the population is bilingual, though Russian has seen a steady rise over the past few decades. Politically, the Movement for Peace and Freedom (the main center-left political party) has noted support among the Charlotteans.

Ad blocker interference detected!
Wikia is a free-to-use site that makes money from advertising. We have a modified experience for viewers using ad blockers

Wikia is not accessible if you've made further modifications. Remove the custom ad blocker rule(s) and the page will load as expected.