Ad blocker interference detected!
Wikia is a free-to-use site that makes money from advertising. We have a modified experience for viewers using ad blockers

Wikia is not accessible if you've made further modifications. Remove the custom ad blocker rule(s) and the page will load as expected.
The following page is under construction.

Please do not edit or alter this article in any way while this template is active. All unauthorized edits may be reverted on the admin's discretion. Propose any changes to the talk page.
| | |
| --- | --- |
| | This article may require copy editing for grammar, style, cohesion, tone, or spelling. You can assist by editing it or giving suggestions in the page's talkpage |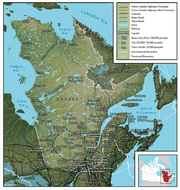 Quebec /kəˈbɛk/ or /kwɪˈbɛk/ (French: Québec [kebɛk] ( listen)) is the 51st state in north-east section of the United-States of America. It is the only U.S. state with a majority of French-speaking population and the only one whose official languages are French and English at state level. Quebec is the U.S.'s second largest state with an area of 527,079 sq mi. Only the state of Alaska is larger. It is bordered to the west by the province of Ontario, James Bay and Hudson Bay, to the north by Hudson Strait and Ungava Bay, to the east by the Gulf of Saint Lawrence and the provinces of Newfoundland and Labrador and New Brunswick. It is bordered on the south by the U.S. states of Maine, New Hampshire, Vermont, and New York. It also shares maritime borders with Nunavut, Prince Edward Island, and Nova Scotia.
History
(To be implemented)
Events leading to the 1837 -1838 rebellion
(To be implemented)
The rebellion (1837-1838)
(To be implemented)
The exile of Louis-joseph Papineau (1838-18**)
(To be implemented)
Guerrilla warfare
(To be implemented)
The second rebellion (18**-18**)
(To be implemented)
The US Annexation (18**)
(To be implemented)
The American Civil War (1861-1865)
(To be implemented)
World War 1 (1914-1918)
(To be implemented)
World War 2 (1939-1945)
(To be implemented)
The German incident
(To be implemented)
Vietnam (1955-1975)
(To be implemented)
Today's political situation
(To be implemented)
Afghanistan and Iraq
(To be implemented)