The Kingdom of Wales is subdivided into 20 provinces. Each province is controlled by a governing body. Below is a list of the Welsh provinces, the principal towns and other towns of note within their borders.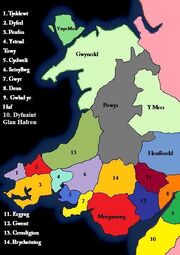 Ynys Mon
Capital: Llangefni
Largest Town: Caergybi (OTL Holyhead)
Seat of Earl of Mon: Aberffraw
Royal Castle of Biwmares
Gwynedd
Capital: Caernarfon
Largest Town: Caernarfon
Seat of Prince of Gwynedd: Garth Celyn
Important Other Towns/Cities: Royal City of Harlech, the town of Machynlyth, the Royal Fortress of Conwy
Powys
Capital: Y Trallwng (OTL Welshpool)
Largest Town: Wrecsam
Seat of Prince of Powys: Traditionally the Castle of Trefaldwyn (OTL Montgomery Castle). Modern: Powis Castle
Royal Palaces: Sycharth (Summer Palace)
Important Other Towns:
Y Mers
Capital: Llwydlo (OTL Ludlow)
Largest Town: Amwythig (OTL Shrewsbury)
Seat of Earls of Y Mers: Castell Llwdlo
Important Other Towns:
Henffordd
Capital: Henffordd
Largest Town: Henffordd
Seat of Earls of Henffordd: Drefbrenin (OTL Kington)
Important Other Towns: Cymraeg Caer Wrangon (Welsh Worcester)
Ad blocker interference detected!
Wikia is a free-to-use site that makes money from advertising. We have a modified experience for viewers using ad blockers

Wikia is not accessible if you've made further modifications. Remove the custom ad blocker rule(s) and the page will load as expected.