Ad blocker interference detected!
Wikia is a free-to-use site that makes money from advertising. We have a modified experience for viewers using ad blockers

Wikia is not accessible if you've made further modifications. Remove the custom ad blocker rule(s) and the page will load as expected.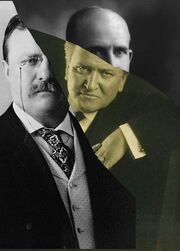 About this Time Line
This is a fictional account of the Progressive Party of America. In this time line there are several PODs, the main one being in 1912 where Theodore Roosevelt and Eugene Debs join together in the 1912 presidential election in a coalition.
This isn't really meant to be super realistic, but I guess most people reading timelines on this site wouldn't expect it to be, as this site has a lot of odd, but very well written time lines on this site.
In this timeline Roosevelt does much better in the 1912 Presidential election, not enough to win it but it's enough to establish the Progressives as a viable party. This is in part due to a coalition with Eugene Debs.
From 1912 to 1916 the Progressives make step by step gains in the House and Senate, and in both years get more votes than the Republicans, although they are defeated by the Democrats.

Easy to access list of major events
1912 American Presidential Elections(PUSA)
1914 American Congress Elections(PUSA)
1916 American Presidential Elections(PUSA)
1916 American Congress Elections(PUSA)
1918 American Congress Elections(PUSA)
1920 American Presidential Elections(PUSA)
La Follette Presidency(1920-1924) (not complete yet)
I stopped editing a couple weeks back and now I have regained interest in my timeline. I have an overall timeline set in place and such. I've decided to get into place some overall events instead of doing the year by year history.

The History of the Progressive Party of America is created by Animelover

]