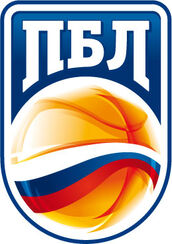 The Professional Basketball League (Russian: Профессиональная баскетбольная лига (ПБЛ), Professional'naya basketbol'naya liga), often abbreviated to the PBL, is the pre-eminent men's professional basketball league in Russian Empire.
CSKA Moscow was the league's most successful club, having won the league's championship 24 times, including winning 9 consecutive championships, from 1976 to 1984. The league featured the players of the senior men's Imperial Russian national basketball team.
Starting with the 2013-14 season, it is the 1st tier of Russian professional club basketball, as well as the national domestic league of Russia. Its goal is to unite the leading basketball clubs of Eastern Europe and Northern Europe together into one league.
Current Teams
Professional Basketball League 2013–14 season
Group
Team
Arena
Head Coach
Group A
ČEZ Nymburk
ČEZ Aréna
BC Donetsk
Druzhba Palace of Sports
BC Yenisey
Ivan Yarygin Sports Palace
Kalev/Cramo
Saku Suurhall
Lietuvos Rytas
Siemens Arena
PBC Lokomotiv-Kuban
Basket Hall
BC Nizhny Novgorod
Trade Union Sport Palace
Spartak Saint Petersburg
Yubileyny Sports Palace
PGE Turów
Centrum Sportowe
BC UNICS
Basket Hall Arena
Group B
Astana
Saryarka Velodrome
Azovmash
Azovmash Arena
CSKA
CSKA Universal Sports Hall
Khimki
Novator Sports Palace
Krasnye Krylia
MTL Arena
BC Neptūnas
Švyturio Arena
Triumph Lyubertsy
SH Triumph
BC Tsmoki-Minsk
Minsk Arena
BK VEF Rīga
Arena Riga
Krasny Oktyabr
Volgograd Sports Pаlace
Ad blocker interference detected!
Wikia is a free-to-use site that makes money from advertising. We have a modified experience for viewers using ad blockers

Wikia is not accessible if you've made further modifications. Remove the custom ad blocker rule(s) and the page will load as expected.