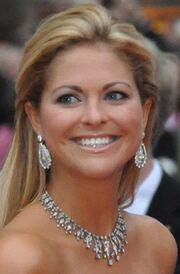 Princess Madeleine (Madeleine Thérèse Amélie Joséphine) of Sweden, was born 10 June 1982 at Drottningholm Castle near Stockholm, and is the third and youngest child and second daughter of King Charles XIII Gustavus and Queen Silvia, née Sommerlath.
She was engaged to lawyer Jonas Bergström (born 1979) from 11 August 2009, and it was declared that Bergström would be created Count upon marrying her. However, due to infidelity from Mr. Bergström's side, the engagement was broken off on 24 April 2010.
Princess Madeleine now resides in New York City, living with financier Chris O'Neill. She is third in line to the Swedish throne, after her brother, Crown Prince Charles Philip, and her sister, Princess Victoria, Countess Westling.