Princess Louise, Duchess of Carnarvon (Joan of What?)
Talk

0
Share
Princess Louise
The Duchess of Carnarvon in 2007
Spouse
Ryan Redfield
Issue
Prince Oliver of Carnarvon
Princess Kimberly of Carnarvon
Full name
Louise Elizabeth Carmen Victoria Olivia
House
House of Stuart-Campbell
Father
Ellory I
Mother
Victoria Geraldton
Born
7 July 1954 (age 62)
Swanstone Central Hospital, Swanstone,
Cygnia
Religion
Church of Cygnia
Princess Louise, Duchess of Carnarvon, (Louise Elizabeth Carmen Victoria Olivia, born 7 July 1954), is the first daughter and second child of Emperor Ellory I and Empress Victoria of Cygnia, being several minutes older than her twin sister Abigail At the time of her birth, she was second in the line of succession to succeed her father; as of 2016 she is seventh in line.
In 1986, Princess Louise married lawyer Ryan Redfield, her partner of six years. The couple's marriage produced two children, Oliver and Kimberly. As well as carrying out various official engagements, she served as Cygnia's Special Representative for International Trade and Investment until July 2011.
Early life and education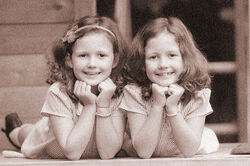 Titles, honours and awards
1954 — 1970: Her Imperial Highness The Princess Louise
1970 — present: Her Imperial Highness The Duchess of Carnarvon
Her full title is Her Imperial Highness Louise Elizabeth Carmen Victoria Olivia, Duchess of Carnarvon, Baroness Redfield, Dame Companion of the Most Honourable Order of the Swan, Dame Grand Cross of the Golden Cross, Aide-de-Camp to His Majesty.
Ad blocker interference detected!
Wikia is a free-to-use site that makes money from advertising. We have a modified experience for viewers using ad blockers

Wikia is not accessible if you've made further modifications. Remove the custom ad blocker rule(s) and the page will load as expected.