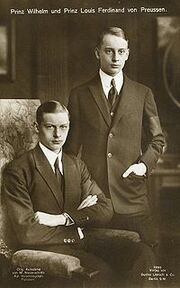 William (William Frederick Francis Joseph Christian Olaf, German: Wilhelm Friedrich Franz Joseph Christian Olaf) was Prince of Prussia and, during his lifetime, second in line to the Prussian and German thrones. He was, however, outlived by both his father and his paternal grandfather, and the throne eventually passed to his brother Louis Ferdinand I. He was son of Emperor William III and Empress Cecilia, née Duchess of Mecklenburg-Schwerin.
Prince William was born 4 July 1906 at the Marmorpalais by Potsdam in Brandenburg, German Empire, and died in a field hospital 26 May 1940 in Nivelles, Belgium, being wounded in the French-German war.
Prince William married 3 June 1933 in Bonn to Dorothea von Salviati (1907-1972), a daughter of the German nobleman Alexander Hermann Heinrich August von Salviati and his wife Helene (Ella), née Crasemann. Princess Dorothea's maternal grandfather was a famous Hamburg parliamentarian, Gustav August Rudolph Crasemann.
William and Dorothea had two daughters:
Felicitas (1934-2009)
Christa (born 1936)
As Prince William had no male issue, his brother Louis Ferdinand eventually inherited the throne.