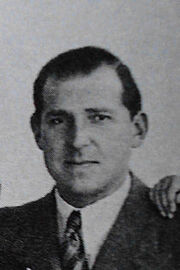 Prince John (French: Jean, Spanish: Juan) of France and Spain was regent of Spain during the first part of his brother's, King James II & I's, reign.
He was born on 20 June 1913 at the Palace of San Ildefonso, Spain, son of King Alphonse XIII of Spain (later to become King Alphonse II of France in addition). When his brother, who was deaf and mute, became King upon the death of their father, on 28 February 1941, Prince John became regent and reigned in the King's name. He resigned from the regency on 20 April 1961, when the King's son, Crown Prince Alphonse, became regent.
Prince John died on 1 April 1993 in the Palace of Versailles, Paris.
He married on 12 October 1935 to Princess Mary Mercedes of Bourbon-Two Sicilies (1910-2000), daughter of Prince Charles of Bourbon-Two Sicilies and his wife Princess Louisa of France, having the following issue:
Pilar (born 1936)
John Charles (born 1938)
Margaret (born 1939)
Alphonse (1941-1966)
Ad blocker interference detected!
Wikia is a free-to-use site that makes money from advertising. We have a modified experience for viewers using ad blockers

Wikia is not accessible if you've made further modifications. Remove the custom ad blocker rule(s) and the page will load as expected.