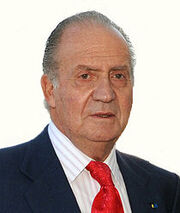 Prince John Charles (French: Jean Charles, Spanish: Juan Carlos) of France and Spain is a former regent of France and Spain.
He was born on 5 January 1938 in the Palace of Versailles, Paris, son of Prince John of France and Spain (who was regent 1941-1961) and his wife Princess Mary Mercedes of Bourbon-Two Sicilies.
When his first cousin once removed, Louis XX & II, became King of France and Spain, on 30 January 1989, aged fifteen, Prince John Charles was appointed regent. When the King was declared an adult on his 18th birthday, on 25 April 1992, Prince John Charles resigned as regent.
He married on 14 May 1962 to Princess Sophia of Greece, Denmark and Norway (born 1938), daughter of King Paul I of the Hellenes, Prince of Denmark and Norway, and his wife Princess Frederica of Hanover, having the following issue:
Helen (born 1963)
Christina (born 1965)
Philip (born 1968)