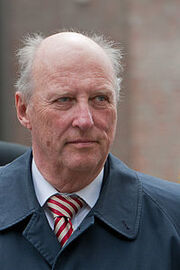 Prince Harold (Danish: Harald) of Denmark and Norway, was born 21 February 1937 in Aarhus, Denmark. He is the only son and third child of Prince Alexander of Denmark and Norway, and Princess Martha, born Countess Märtha Bernadotte af Wisborg (daughter of Swedish secretary of foreign affairs Count Carl Bernadotte af Wisborg (brother of Prince Gustavus of Sweden and son of prime minister Oscar Bernadotte) and Princess Ingeborg of Denmark and Norway).
He is second in line to the throne of Denmark and Norway, although he is older than his second cousins, King Ingolf I and his brother, Prince Christian. He may not be expected to actually inherit the throne, however, his son, Prince Haakon, is expected to one day become King of Denmark and Norway.
He is married since 29 August 1968 in Aarhus to Norwegian-born Sonja Haraldsen, and they have two children: Princess Martha Louisa, Countess Behn, and Prince Haakon.
Ad blocker interference detected!
Wikia is a free-to-use site that makes money from advertising. We have a modified experience for viewers using ad blockers

Wikia is not accessible if you've made further modifications. Remove the custom ad blocker rule(s) and the page will load as expected.