Haakon Magnus, born 20 July 1973 in Kristiania, Norway, is Prince of Denmark and Danish ambassador to Norway. He is the son of the former Danish ambassador to Norway, Prince Harald of Denmark and Princess Sonja of Denmark, née Haraldsen.
Prince Haakon married 25 August 2001 at Kristiania Cathedral to Norwegian-born Mette-Marit Tjessem Høiby, and they have two children:
Princess Ingrid Alexandra
Prince Sverre Magnus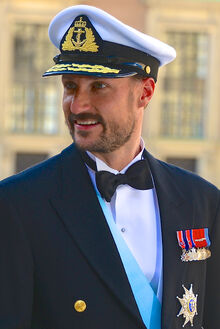 Ad blocker interference detected!
Wikia is a free-to-use site that makes money from advertising. We have a modified experience for viewers using ad blockers

Wikia is not accessible if you've made further modifications. Remove the custom ad blocker rule(s) and the page will load as expected.