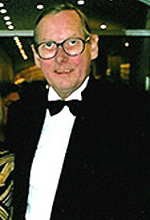 Prince Christian (Christian Frederick Francis Canute Harold Charles Olaf Gustavus George Erik, Danish: Christian Frederik Franz Knud Harald Carl Oluf Gustav Georg Erik) is the present heir to the Danish and Norwegian throne. He is the son of
Canute VII
and brother of
Ingolf I
.
He was born 22 October 1942 in Aarhus. He is married since 27 February 1971 to Anne-Dorthe Maltoft-Nielsen, and they have three daughters: Princesses Josephine, Camilla and Feodora, who are married to men who have been created Danish Counts by King Ingolf I. However, as the throne of Denmark and Norway is inherited according to agnatic primogeniture, they are not in line of succession. Next in line to the throne, after King Ingolf and Prince Christian, is his second cousin, Prince Harold.
He is also # 297 in the line of succession to the Swedish throne.
Ad blocker interference detected!
Wikia is a free-to-use site that makes money from advertising. We have a modified experience for viewers using ad blockers

Wikia is not accessible if you've made further modifications. Remove the custom ad blocker rule(s) and the page will load as expected.