President of the United States (Das Große Vaterland)
Talk

0
Share
Ad blocker interference detected!
Wikia is a free-to-use site that makes money from advertising. We have a modified experience for viewers using ad blockers

Wikia is not accessible if you've made further modifications. Remove the custom ad blocker rule(s) and the page will load as expected.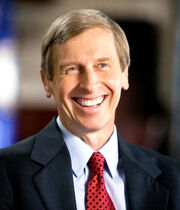 The President of the United States is the head of state and the head of government of the United States of America. The position is detailed in the Second Article of the United States Constitution, and was first created  and elected to in 1789, when the Constitution was widely ratified. He serves as the head of the executive branch of the United States federal government and is the commander-in-chief of the United States Armed Forces. As time has gone on, those who have held the office of President have redifined it and its powers, some adhering strictly to the Constitution, and some interpretting much of the president's power for their own uses. He is also Chief Diplomat of the United States, as he dictates United States foreign policy, and holds the sole power of appointing federal executive, diplomatic, judicial, and regulatory officers, who are then mostly confirmed by the Senate. The current President of the United States is John Lynch, a Democraitc, who has been serving in this position since 2008.
List of Presidents
#
Portrait
Name
Term Length
Party
Vice-President(s)
1
George Washington
1789-1797
No Party
John Adams
2
John Adams
1797-1801
Federalist
Thomas Jefferson
3
Thomas Jefferson
1801-1809
Democratic-Republican
Aaron Burr (1801-1805), George Clinton (1805-1809)
4
James Madison
1809-1817
Democratic-Republican
George Clinton (1809-1812), Elbridge Gerry (1812-1817)
5
James Monroe
1817-1825
Democratic-Republican
Daniel Tompkins
6
John Quincy Adams
1825-1829
Democratic-Republican
John C. Calhoun
7
Andrew Jackson
1829-1837
Democratic
John C. Calhoun (1829-1832), Martin van Buren (1833-1837)
8
Martin van Buren
1837-1841
Democratic
Richard Johnson
9
William Henry Harrison
1841

(Died in office)

Whig
John Tyler
10
John Tyler
1841-1845
No Party
None
11
James K. Polk
1845-1849
Democratic
George Dallas
12
Zachary Taylor
1849-1850

(Died in office)

Whig
Millard Fillmore
13
Millard Fillmore
1850-1853
Whig
None
14
Franklin Pierce
1853-1857
Democratic
William Rufus King
15
James Buchanan
1857-1861
Democratic
John Breckinridge
16
Abraham Lincoln
1861-1865

(Assassinated)

Republican
Hannibal Hamlin (1861-1865), Andrew Johnson (1865)
17
Andrew Johnson
1865-1869
Democratic
None
18
Ulysses S. Grant
1869-1877
Republican
Schuyler Colfax (1869-1873), Henry Wilson (1873-1875), None (1875-1877)
19
Rutherford B. Hayes
1877-1881
Republican
William Wheeler
20
James A. Garfield
1881-1885
Republican
Chester Arthur
21
Grover Cleveland
1885-1889
Democratic
Thomas A. Hendricks
22
James G. Blaine
1889-1893
Republican
J. Warren Keifer
23
J. Warren Keifer
1893-1897
Republican
John Sherman
24
William Jennings Bryan
1897-1905
Democratic
Arthur Sewall
25
Theodore Roosevelt
1905-1917
Republican
Charles Fairbanks (1905-1913), Julius C. Burrows (1913-1917)