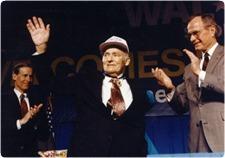 17th March, 1992
On this day, former President Sam Walton, was given America's highest civilian award: the Presidential Medal of Freedom by his successor George Bush.
During his epic two-term Presidency, Walton fought a determined but only partly successful battle to get protectionist legislation through the U.S. Congress. The result was a batch of semi-voluntary measures that rewarded U.S. Companies for domestic sourcing.
Throughout his long business career, he had stuck doggedly to his core belief in "buying American," insisting that Wal-Mart stores only sold American-made products.
Tragically, he died only weeks after received the award. His successors on the board of Wal-Mart committed the long-term future of the retailer to American-made merchandise. Even though Wal-mart had lost ground to competitors such as Dollar General and Family Dollar, protectionists argued that tens of thousands of U.S. manufacturing jobs had been saved by "Uncle Sam".
Ad blocker interference detected!
Wikia is a free-to-use site that makes money from advertising. We have a modified experience for viewers using ad blockers

Wikia is not accessible if you've made further modifications. Remove the custom ad blocker rule(s) and the page will load as expected.