Willard Mitt Romney, was 43rd President of the United States (2001-2005) and is an American politician. He is a member of the Republican Party who was the Republican nominee in both the 2000 and 2004 Presidential elections. Before his presidential bid, Romney was a senator from Massachusetts.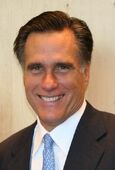 Mitt Romney

45th President of the United States
January 20, 2001 - January 20, 2005

Predecessor
Al Gore
Successor
Joe Biden
Vice President:
Fred Thompson

Senator from Massachusetts
January 3, 1995 - January 3, 2001

Predecessor
John Silber
Successor
John Lakian
Born
March 12, 1947
Detroit, Michigan, US
Died
Still Alive
Spouse
Ann D. Romney
Political Party
Republican
Religion
Mormon
Profession
Politician
1994 Senate Race
In the 1994 Massachusetts Senate Race, Republican Mitt Romney ran against John Silber, the 1990 Democratic nominee for Governor. Romney won a close victory against Sibler for having "a positive, not negative race" whilst Sibler had "a negative race". Ted Kennedy had ran for president and won in the 1988 Presidential Election against Republican nominee George H.W Bush, therefore he did not run for the Senate in 1988, in which John Silber won the 1988 Massachusetts Senate Election very heavily against Republican nominee John W. Sears.
Senator
As a senator, Romney worked with President Kennedy who liked Romney, in an interview Kennedy said about him: "Well I would have chosen Mitt as my Vice President had he been a democrat and in office back then in '88.". Romney voted for several liberal ideas while senator and seemed to be "the savior of the Republican party". Romney also filibustered President Kennedy's "Army Plan" which allowed openly gay soldiers to serve in the military. The filibuster lasted 48 hours and Romney was ridiculed for his filibuster.
1996 Presidential Election
Senator Romney said he was open to running in the 1996 Election but polls showed him behind the presumed Democratic nominee, Al Gore. Romney thought "long and hard" about campaigning in the 1996 election but instead endorsed former senator Dan Quayle for the nomination the day Quayle announced (June 4,1995). Romney was rumored to be a running mate for Quayle and was on the shortlist. Quayle's VP shortlist due to he was the presumptive nominee was:
Jack Kemp
Mitt Romney
Al D' Amato
Eventually, on August 4, 1995, Romney announced his candidacy on the Republican ticket for President of the United States. The primary battles were fierce due to the only candidates were Dan Quayle, Mitt Romney, Pat Buchanan, Steve Forbes, and Jack Kemp. Quayle won 26 states compared to Romney's 22. Jack Kemp won New York and New Hampshire.
After Romney's loss, Quayle said: "If elected, Romney will be my Secretary of State but i am announcing my running mate is Jack Kemp." Quayle in reality only chose Kemp to have a better chance of winning New York. In the end, Quayle suffered a humiliating defeat to the democratic nominee, Al Gore.