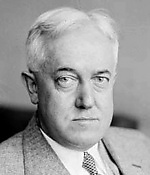 13th April, 1873
On this day the thirtieth President of the United States John W. Davis was born in Clarksburg, West Virginia.
After graduating from law school, he joined his father in practice in Clarksburg. John J. Davis was a famous regional politician in his own right, being a delegate in the General Assembly, attending the Wheeling Convention and after the northwestern portion of Virginia brokeway in 1863 he was elected to the new state's House of Delegates and later to the United States House of Representatives.
Son John W. followed in his father's footsteps by representing West Virginia in the U.S. House of Representatives from 1911 to 1913, where he was one of the authors of the Clayton Act. Davis also served as one of the managers in the successful impeachment trial of Judge Robert W. Archbald. He served as U.S. Solicitor General from 1913 to 1918 and as ambassador to the United Kingdom from 1918 to 1921. As Solicitor General, he successfully argued in Guinn v. United States for the illegality of Oklahoma's "grandfather law". Davis was an outsider for the Democratic nomination for President in 1920 and it was this candidature that placed him in the box seat for his successful run in 1924.
Of course Davis would never have gained the Presidency if it were not for the Tea Pot Scandal directly implicating the First Lady and opening the door to the broader issue of corruption that ultimately destroyed the Harding White House.
Ad blocker interference detected!
Wikia is a free-to-use site that makes money from advertising. We have a modified experience for viewers using ad blockers

Wikia is not accessible if you've made further modifications. Remove the custom ad blocker rule(s) and the page will load as expected.