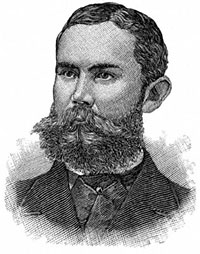 3rd September 1902
At the Howard's Hill intersection in Pittsfield, Massachusetts, a runaway trolley car rammed into the open-air horse carriage of Theodore Roosevelt, killing the President, his assistant George B. Cortelyou, Secret Service Agent William Craig and Governor Winthrop M. Crane.
The office of Vice President had been left unoccupied since the assassination of his predecessor William McKinley. TR himself had vacated the position just a few weeks short of his forty-third birthday. And so as directed by the Succession Act of 1886, Secretary of State John Hay rose to the Presidency.
It was not his first residency in the Executive Mansion. Because the law office of his Uncle Milton Hay was next door to Abraham Lincoln's practice and Lincoln thus became acquainted with John Hay. When Lincoln won election as president, his secretary, John G. Nicolay, recommended John Hay to Lincoln as assistant private secretary. Thus, at age twenty-two he began a lifelong career in government, except for a journalism stint from 1870-78. Though technically a clerk in the Interior Department, he served as Lincoln's secretary until 1864. He lived in the northeast corner bedroom on the second floor of the White House, which he shared with his fellow secretary and Pittsfield Academy schoolmate, Nicolay.
Finally elevated to the Presidency himself, John Hay faced a series of immediate challenges, the first being a coal famine brought on by a great strike in the anthracite coal fields of Pennsylvania. But fortunately, Hay was a man of vast political experience, winning re-election and serving until his own death in July 1905.
Ad blocker interference detected!
Wikia is a free-to-use site that makes money from advertising. We have a modified experience for viewers using ad blockers

Wikia is not accessible if you've made further modifications. Remove the custom ad blocker rule(s) and the page will load as expected.