Hillary Clinton



44th President of the United States
In office
January 20, 2009 – January 20, 2017

Vice President

Russ Feingold

Preceded by

George W. Bush

Succeeded by

Marcus Luttrell
United States Senator
from New York
In office
January 3, 2001 – January 21, 2009
Serving with Chuck Schumer

Preceded by

Daniel Patrick Moynihan

Succeeded by

Kirsten Gillibrand
First Lady of the United States
In office
January 21, 1993 – January 21, 2001

Preceded by

Barbra Bush

Succeeded by

Laura Bush
Personal details
Born

Hillary Diane Rodham


October October 26, 1947
Chicago, Illinois
Nationality
American
Political party
Republican (before 1968), Democratic (1968-present)
Spouse(s)
Bill Clinton
Hillary Diane Rodham Clinton (pron.: /ˈhɪləri daɪˈæn ˈrɒdəm ˈklɪntən/; born October 26, 1947) is an American politician who was the 44th President of the United States from 2009-2017. She was previously a United States Senator for New York from 2001 to 2009. As the wife of President Bill Clinton, she was also the First Lady of the United States from 1993 to 2001. She was elected President in the 2008 election, defeating John McCain. She was re elected in 2012 defeating Jeb Bush.

On January 21, 2017, Hillary Clinton was succeeded by Ted Cruz as the new president.
Presidency
Election of 2008
In 2008, Incumbent Republican President George W. Bush was ineligible to run for a third term as president. Bush's unpopularity caused the Democratic Party to regain control of the House of Representatives as well as the Senate. Senator Clinton decided to run for the party's nomination. However, three other Senators; Barack Obama, John Edwards, and Joe Biden were in the running. Clinton narrowly defeated Obama and nominated him for Vice President.
The other party, the GOP, nominated John McCain for president. McCain chose Sarah Palin for VP nomination. Clinton faced competition from Senator Barack Obama. However, after Obama dropped out, Clinton gained the party's nomination. Clinton would later go on to appoint Obama to be Attorney General. It was later announced that Senator Even Bayh had been selected as Clinton's running mate. The record low approval rating of Incumbent President Bush led to a rough election season for Republicans and an easy victory for the Clinton/Bayh ticket.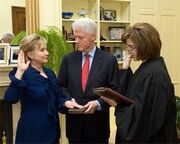 Election of 2012
Clinton's approval rating throughout her first term proved to be extremely solid. Much of that was attributed to her success with foreign affairs. During the Republican primaries, Mitt Romney emerged as the front runner. However, Jeb Bush later entered the election and soared in every poll. However, after winning the nomination, Bush proved to be a weak candidate, slumping in every poll. Bush believed putting a strong, well respected governor on the ticket might increase his chances. It was then announced that Chris Christie had been chosen as Bush's running mate. However, the polls continued to worsen. After abysmal showings in the debates, it became apparent that Bush's chances were beginning to diminish. Clinton went on to defeat Bush by a landslide, winning a second term in office.
Election of 2016
Decent approval ratings and a solid reputation led to an easy re-election victory for President Clinton. Many Democrats hoped this could lead to a victory for Attorney General Obama in the following election. However, Clinton's approval ratings immediately took a dive as her second term was immediately with scandal after scandal. And although polls in 2011 blamed previous President George W. Bush for the constantly failing economy, polls in 2015 blamed Clinton for a lack of action. Excitement for the Democratic party was waning. As 2016 rolled around, President Clinton was ineligible to run for a third term. Former Attorney General Obama easily won the party's nomination and gained many endorsements from the establishment side of the party. Republican Senator Ted Cruz won his party's nomination thanks to immense support from the Tea Party side of the GOP. Cruz picked moderate governor John Kasich in response to fears that Cruz's far right rhetoric might alienate more independent voters. Obama went on to announce that Virginia Senator Mark Warner had been chosen as his running mate. Cruz's ultra religious values proved to be controversial with the LGBT. However, Obama's failure to excite his base led to tight polls though he did gain the endorsements from Clinton and many celebrities in Hollywood. After winning the first debate, Obama saw a surge in the polls. In spite of this, Cruz went on to narrowly win the 2016 election. President Clinton congratulated President-elect Cruz the day after the election.
==See Also==