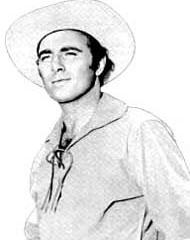 10th April, 1794
On this day American pioneer, slave trader, land speculator, soldier and statesman James "Jim" Bowie was born in Logan County, Kentucky.
He would spent much of his early life in Louisiana where he was raised and later worked as a land speculator although his rise to fame began in 1827 on reports of the Sandbar Fight. What began as a duel between two other men deteriorated into a melee in which Bowie, having been shot and stabbed, allegedly killed the sheriff of Rapides Parish with a large knife. This, and other wild exaggerated stories of Bowie's prowess with the knife, led to the widespread popularity of the "Bowie" knife.
Bowie's legendary reputation was cemented by his role in the Texas Revolution. He joined the Texas militia, leading forces at the Battle of Concepcion and the Grass Fight. In January 1836, he arrived at the Alamo, where he commanded the Texian volunteer forces until an illness left him bedridden. Fortunately, he made a miraculous recovery after the dramatic relief mission. But confined to a cot he had the dubious distinction of becoming the sole surviving hero after William Travis, Davy Crockett and Sam Houston were all tragically killed during the fierce fighting.
Yet the battlecry "Remember the Alamo" held a powerful resonance at the birth of Texan Statehood and on October 22nd Jim Bowie became the first President of the new nation at the age of just forty. A legal dispute with the State of Louisiana quickly followed but investigations soon established that Bowie had not been involved in the Sandbar Fight at all. What was established however was the unedifying fact that Bowie a much better dead hero than living leader.
Ad blocker interference detected!
Wikia is a free-to-use site that makes money from advertising. We have a modified experience for viewers using ad blockers

Wikia is not accessible if you've made further modifications. Remove the custom ad blocker rule(s) and the page will load as expected.