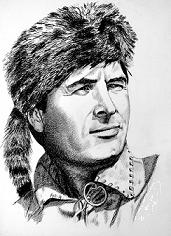 2nd November, 1734
On this day American pioneer, explorer, frontiersman, wealthy land speculator and third President of the United States Daniel Boone was born in Oley Valley, Pennsylvania.
In 1775 Boone blazed his Wilderness Road through the Cumberland Gap in the Appalachian Mountains from North Carolina and Tennessee into Kentucky despite resistance from American Indian tribes such as the Shawnee. There he founded the village of Boonesborough, Kentucky, one of the first English-speaking settlements west of the Appalachians. Before the end of the 18th century, more than two hundred thousand European people migrated to Kentucky/Virginia by following the route marked by Boone.
During the Revolutionary War he was captured by Shawnee warriors who adopted him into their tribe. Later, he left the Indians and returned to Boonesborough in order to help defend the European settlements in Kentucky/Virginia. Following the war, Boone initially worked as a surveyor and merchant before accumulating vast wealth through lucrative Kentucky land speculation.
In 1800, he ran successfully for the Presidency narrowly beating the incumbent John Adams. He entered Office with the high hope that he would blaze a new trail, bringing the country together by addressing the Indian Question.
Ad blocker interference detected!
Wikia is a free-to-use site that makes money from advertising. We have a modified experience for viewers using ad blockers

Wikia is not accessible if you've made further modifications. Remove the custom ad blocker rule(s) and the page will load as expected.