Perez Jimenez's Venezuela portal page: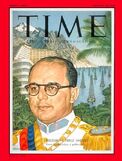 1950's, the dictator Marcos Perez Jimenez is governing Venezuela. In bustling cities, businessmen make fortunes, while middle-class girl clerks and secretaries, emancipated from ancient constraints by modern salaries, drive their own convertibles or fly to Miami for vacations and shopping. In the country, the rope-soled sandal that only recently covered the bare foot is being rapidly replaced by the shoe.
Caracas (pop. 87,000), the balmy capital (average temperature 70°). is the national show window—a bursting city overhauling itself so fast that the visitor who returns only once a year can easily get lost. Under clouds of dust, half pulverized rubble and half cement, new super-boulevards crash through old slums, and lavender-painted buses soon roll along them.
The construction drive has revealed the Venezuelans' exciting talent for vivid modern architecture. Their use of color—lemon yellow, white, red, and ultramarine blue—outdoes the native bougainvillea and the bright toucan birds. Red-earth gashes in the surrounding azure mountains promise more to come.
Rhinestone Yo-Yos. COMPRE HOY Y PAGUE MAÑANA! shouts a huge sign atop Sears, Roebuck's mammoth Caracas department store: BUY TODAY AND PAY TOMORROW! On time payments, women in pipeless hillside shanties buy U.S.-made washing machines, and happily lug water in buckets on their heads to fill them. Specialty shops sell canned Spanish cuttlefish, rhinestone-studded yo-yos, TV sets and a potent local liquor disarmingly called La Economica. The 4,000 millionaires who set "two Cadillacs in every garage" as their standard enjoy such diverse luxuries as art collections, a drive-in that serves chilled martinis, sports-car racing and a nightclub where a cow does an act.
Outside the capital, the country is also booming. In the hot western oil town of Maracaibo (average temperature: 86°), competition has forced even the bordello-owners to install airconditioning. In the eastern plains and jungles, prospectors ruin their teeth on back-country diets while diligently hunting for diamonds, then get the cavities filled with the gold they have panned along the way.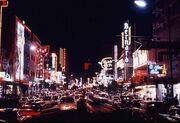 Some 33,000 colorfully assorted citizens of the U.S. live and make money in Venezuela. In the countryside, boomers who have drifted in from such places as Greenland or Morocco run dredges, build railroads, drive piles (but in the oilfields the oldtime Texas roughnecks have largely been replaced by the Venezuelans they trained). In the cities the American musiús (Venezuelan slang for any foreigner, from monsieur) range from topflight oil-company executives and managers of U.S.-owned factories or assembly plants (cars, tires, chemicals, etc.) through a wide spectrum of salesmen, admen and promoters to some all-purpose operators that the others call "export bums." U.S. and other foreign companies have contributed heavily to Caracas' great private building boom, but the government splurge of public works is more than twice as big. The Centre Simon Bolivar, a complex of twin 30-story office buildings, underground parking areas, landscaping and traffic routes, is nearing completion on a site where 400 buildings once stood in the heart of old Caracas. It was inspired by Rockefeller Center—but so far has cost at least three times as much as the Manhattan development, put up mostly in the depressed '30s for $125 million.
Forty 15-story apartment houses plus other vast developments provide public housing. The new University City has a brightly painted super-hospital and two cantilever-roofed stadiums that seat 75,000 fans without a single view-blocking pillar.
The nation's highway net, doubled (to 7,500 miles) in the last six years, is capped by the famed Autopista, a spectacular $6,000,000-a-mile parkway that connects mountain-bound Caracas with its main airfield and seaport, ten miles away. Throughout Venezuela there are 250 new schools, 690 new clinics or hospitals, aqueducts, airstrips, first-class private or government-financed hotels.
Ad blocker interference detected!
Wikia is a free-to-use site that makes money from advertising. We have a modified experience for viewers using ad blockers

Wikia is not accessible if you've made further modifications. Remove the custom ad blocker rule(s) and the page will load as expected.