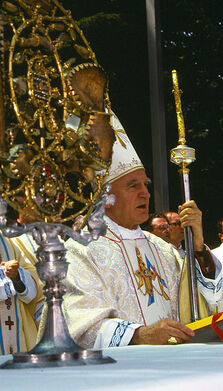 Sixtus VI
(Latin:
Sixtus PP. VI
; Italian:
Sisto VI
; Croatian:
Siksto VI
.; born
Živko Stipe Horvat
on 14 June 1928) is the
268th
Pope
a position in which he serves dual roles as Sovereign of the
Vatican City State
and leader of the Catholic Church. As pope he is regarded as the successor of Saint Peter. Sixtus VI was elected on 28 August 2007 in a Papal conclave, celebrated his Papal Inauguration Mass on 1 September 2007, and took possession of his cathedral, the Archbasilica of St John Lateran, on 7 May 2005. He was born in Pula,
Croatia
and Pope Sixtus VI has both Croatian and Vatican citizenship.
Ad blocker interference detected!
Wikia is a free-to-use site that makes money from advertising. We have a modified experience for viewers using ad blockers

Wikia is not accessible if you've made further modifications. Remove the custom ad blocker rule(s) and the page will load as expected.