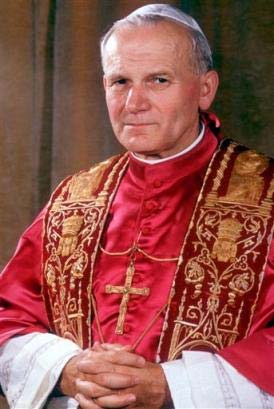 Pope John Paul II
, formerly known as Karol Wojtyla, (18th May, 1920 - 13th May, 1981, also known as
Pope St. John Paul II
) was Pope for three years in the late
New Elizabethan Era
, and the only Polish Pope. He was elected in the Papal Conclave of October 1978 and assassinated by
Mehmet Ali Agca
in St Peter's Square at the Vatican. He was succeeded by
Cardinal Giovanni Benelli
after the Papal Conclave of 1981.
He was canonized by Pope Sixtus VI on 1 May 2011 making him the first pope to receive the honor since Pope St. Pius X.
Papal Career
John Paul II was a prolific linguist, had conservative religious views and travelled widely during his pontificate. The two most notable trips were to Mexico and Poland. The latter provoked an uprising in the shipyards and the foundation of an independent trade union movement which was later banned by the government. He was also the only pope to visit the White House and planned a visit to the UK which was prevented by the assassination.
Assassination
He was fatally wounded by Mehmet Ali Agca, a member of a right-wing Turkish organisation known as the Idealist Youth, on 13th May, 1981. As he died, he claimed to have a vision of Our Lady of Fatima, which in the light of the claims made by the three shepherd children has given rise to some speculation as to the content of the message to them.
Preceded by:
Pope John Paul I
Pope
16 October 1978 - 13 May 1981
Succeeded by:
Pope Peter II
Ad blocker interference detected!
Wikia is a free-to-use site that makes money from advertising. We have a modified experience for viewers using ad blockers

Wikia is not accessible if you've made further modifications. Remove the custom ad blocker rule(s) and the page will load as expected.