Pilotwings is a series of flight simulation games by Nintendo. It currently has three entries
Overview
Pilotwings games put the player in control of one of several vehicles, such as planes, gliders, or rocket belts. Players then can either perform one of a number of specific missions for the vehicle or fly freely in an open environment.
History
The original Pilotwings was a 1990 launch title for the SNES, created by Nintendo EAD. The game, which featured five aerial options, made use of the SNES's revolutionary Mode 7 capabilities, which emulated 3D environments with 2D graphics.
Pilotwings 64 was developed in cooperation with Paradigm Simulation, and was a launch title for the N64. The game featured true 3D graphics and analog control, as well as a number of vehicles to pilot and several areas to explore.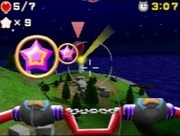 Pilotwings Island was developed by Hudson Soft, and was released for the Game Boy Nitro in 2007. The game featured a single island, Wuhu Island, an environment designed for use in several Nintendo games. The game featured three vehicles, a plane, glider, and rocket belt, and included a local multiplayer option that allowed for both competitive and cooperative play.
Reception
Although one of Nintendo's more minor series, each installment in the Pilotwings franchise has received at least a million sales. Furthermore, the games have received generally positive reviews, though Island had some mediocre reviews.
Ad blocker interference detected!
Wikia is a free-to-use site that makes money from advertising. We have a modified experience for viewers using ad blockers

Wikia is not accessible if you've made further modifications. Remove the custom ad blocker rule(s) and the page will load as expected.