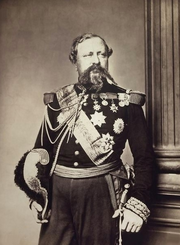 Phillipe Napoleon Bonaparte (March 12, 1849 - May 2, 1914) was a French Marshal and a member of the ruling house of Bonaparte (grand- nephew of Napoleon I)
In 1863 Phillipe joined the imperial guard as an honorary captain. He served in several garrisons before being promoted to Colonel in 1870. In 1870 he also was posted to Egypt and fought during the Arab revolt of 1873 - 75. In 1879 he returned home to France and became its youngest major general a year later. In 1881 he was made commander of the garrison at Toulon. In 1883 he was retired from active service and married his cousin Maria. In 1885 he was promoted to General and became commander of the 4th army, based at Rheims. In 1887 he stood by his uncle at his coronation ceremony and was made commander at the imperial palace. In 1889 he was made a Marshal of France and became commander of french troops in China, he also had a son, Victor. In 1891 he returned to France for his cousin's coronation and became commander in chief of the Imperial Guard. In 1899 he became inspector general of the army and served in that capacity until his death. Unlike his cousin the emperor, he offered a very hardline against devolution and stated that to do so would result in "these rabid dogs to be let loose, ripping down our sacred eagle". In 1914 he made a state visit to Berlin to try to calm Prusso-French relations. On May 2nd he was reviewing a Prussian guard of honour when he was shot by a German Nationalist. his assassination is regarded as the spark that started WW1.
Ad blocker interference detected!
Wikia is a free-to-use site that makes money from advertising. We have a modified experience for viewers using ad blockers

Wikia is not accessible if you've made further modifications. Remove the custom ad blocker rule(s) and the page will load as expected.