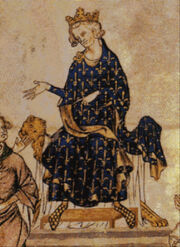 Philip VI the Fortunate of France was the last King of France during the 13 Years' War. He became the King of Southern France for last three months of his life after North France was taken by Edward III. He was the son of Charles of Valois and Margaret of Anjou to whom he was born in 1293 and who succeeded Charles IV of France in 1328. His wife Joan the Lame and he had ten children. One of whom was John II. He later died in southern France in 1350.
Ad blocker interference detected!
Wikia is a free-to-use site that makes money from advertising. We have a modified experience for viewers using ad blockers

Wikia is not accessible if you've made further modifications. Remove the custom ad blocker rule(s) and the page will load as expected.