A
B
James Brady
James Scott "Jim" Brady (born August 20, 1940) was the architect of the US Space Program and the first head of NASA.
During his early years, his father went of to serve in the military, and Brady was cared for by his mother. He became an Eagle Scout in the Boy Scouts of America. This and high school got him interested in science. He attended the Massachusetts Institute of Technology and got a Master's Degree in flight science. His dad also was experienced in artillery, and helped him understand it.
In 1965, Brady went to work for the USAF, and was part of the design team that created the blueprints for the B65 Jet Bomber. He also helped design several missiles used by the United States toward the end of the Middle East War. He was recognized for his actions many times and was subsequently promoted, and by 1972 was the leader of the design team that created new nuclear missiles. This resulted in the creation of the Scott Missile Series, which was famous for its heavy involvement in the US-Russian military exercise Able Archer 83 in 1983.
In 1980, his new design team, which included Dr. John "Shaker" Fox who would later design the International Space Station, had the idea of a "space missile" which could strike at anywhere at Earth and would be impossible to shoot down. When President Reagan authorized the project, Brady's team tested many different kinds for over three years, until one kind was selected. This resulted in the creation of the Washington I satellite, which was launched in 1985 and would begin the Cold War. After this the National Aeronautics and Space Administration was formed, and Brady was its first director. Five more satellites in the Washington series were launched, until it was ended in 1988.
Later, Brady's team began the Hermes program, which was a series a manned missions. However, the fail of Hermes II and Hermes III shook Brady's confidence. He felt responsible for the death of the astronauts in the destructions. Brady considered resigning, but the success of the next Hermes missions would restore his confidence. In 1998, Hermes XI reached the moon, and astronaut Neil Armstrong became the first man on the moon. Several more Hermes missions placed men on the moon. After Hermes XIX launched in 2003, the Hermes program was ended and replaced by the Space Shuttle program, which was the creation of Fox.
After Hermes, Brady decided to retire from NASA and Fox became its new director. Brady wrote a book on the Hermes missions and later an autobiography. He now resides in Coral Gables, Florida near Cape Canaveral, which is home to one of the most famous space centers in the US.
In 2009, the new space center in San Diego was named Brady Space Center in honor of him.
C
Davy Crockett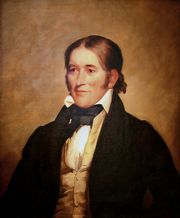 Davy Crockett (17 August 1786 - 6 March 1836) was born in what is now Greene Country, Tennessee, close to Nolichucky River and near the communty of Limestone. Crockett was named after his paternal grandfather, who died during an attack by Indians. This interested the young boy, who soon loved to learn about warfare. At age eight he began hunting with his older brothers. At age 13 Crockett ran away from home for fear of a punishment from his father. During his three years of travel, he learned skills as a backswoodsman, hunter, and trapper. He returned home near his sixteenth birthday, and he was hired out to Abraham Wilson by his father. Once he finished this, he left his home again.
In January 1807, Crockett joined the Second Regiment of the Tennessee Volunteer Mounted Riflemen and served in the British Invasion of Canada. He was made a scout because of his abilities as a hunter, trapper, and woodsman. Crockett was elected Lieutenant Colonel of the Fifty-Seventh Regiment of Tennessee Army following the Battle of Montreal. Following the end of the war, Crockett returned home to his native Tennessee, stationed at the city of Nashville. His regiment would be sent to fight in the Mexican Civil War, during which Crockett was wounded and later captured by the Mexican Army. Crockett was sent to be executed at Veracruz, but the Americans captured the city before Crockett was. Because of his wounds sustained, Crockett was sent back home. On the 24 of May in 1824, Crockett was honorably discharged, and he went to back to Greene Country, where he lived until his death in 1836.
D
E
F
Henry Ford
Added by CheesyCheeseHenry Ford (30 July 1863 - 7 April 1947) was born in Greenfield Township (near Detroit, Michigan) to William Ford and May Litogot Ford. During his teens, Ford impressed his friends with his mechanical skills. He later worked in Detroit as an apprentice machinist. He became interested in politics while at Detroit, and he campaigned for Michigan governor, however, he disagreed with both the Republican and Democratic parties, and he formed his own, the Industrialist Party.
After failing twice, Ford was finally elected in 1901. Ford created the Ford Company, which was run by him, and developed a concept known as Fordism, the mass production of inexpensive goods coupled with high wages for workers. Using concepts he and Ransom E. Olds created, he created the assembly line in 1903, and soon his company were producing products at a faster rate. Rival companies were being put out of business, forcing them to adopt Fordism. With the number of products coming out the economy of Michigan was greatly improved.
While governor, Ford also worked on shipping lanes in the Great Lakes, and sent money to improve the Upper Peninsula, which greatly helped the port of Marquette, which soon grew into one of the Upper Peninsula's largest city. Ford also created the Ford Route, where iron and copper from the Upper Peninsula would head to Canadian cities, from which agricultural products would be sent to the Lower Peninsula, and then from which machinery would be sent to the Upper Peninsula. Ford also gave jobs to the new immigrants from the Scandivanian countries, and would supply them with shelter, food, and water until they could find a job. Ford's third term ended in 1907, after which he retired from politics. Ford was one of the richest men in Michigan, with wealth flowing in from his companies. He was also one of the most popular, with the economy in Michigan booming.
Following his three terms as Michigan governor, Ford became mayor of Detroit in 1908. Ford improved the road systems in the city, as soon his newly produced Ford Model Ts would be rolling in. The Model T became popular throughout Detroit, and soon people all across Michigan were buying them. Companies in the Upper Peninsula bought hundreds of them, as it would be easier to ship ores to the coast. By 1916, Ford's companies were the richest and most influencial in the state of Michigan.
G
H
I
William B. Ide
William B. Ide (28 March 1796 - 19 or 20 December 1852) was born in the small town of Rutland, Massachusetts to Lemuel Ide. William Ide was carpenter, as well as a school teacher. In 1820, Ide married Susan Grout Haskell. The moved from Massachusetts to Kentucky, then to Ohio, and then finally to Springfield, Illinois, on a farm. In 1845, Ide sold his farm and joined a wagon train heading to Oregon. On the advice of Caleb Greenwood, a mountain man, they split from their group and went to California. Ide and Susan made it to Oakland, California, in 1846.
Ide continued to teach, and Ide, a Mormon, went to a local Mormon church often. In 1847, Ide opened a school for Mormonism in the basement of the church. The school attracted visitors, and along with money from carpentry and farming, Ide bought a building in Oakland. He moved his school to the new building, and named it the "Oakland Mormonism University" (OMU). The University started small, but it soon gained influence in Oakland and the rest of California. By Ide's death in 1852, it was the largest university in Oakland.
Today, the OMU is one of the largest Mormon schools in the nation, rivaled by ones only near Salt Lake City. It is also notable for it being the alma mater of Governor of Massachusetts Mitt Romney.
J
Jesse James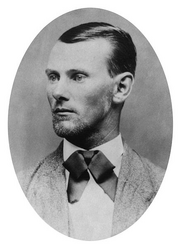 Jesse James (5 September 1847 - 11 December 1914) was born in Clark Country, Missouri and had two siblings: Alexander Franklin "Frank" and a younger sister, Susan Lavenia James. Missouri was a border state, so slavery was allowed there, and his family had about ten slaves. However, this ended quickly with the freeing of the slaves after the American Civil War, when James was 12. At age 15, James made his first trip to the Mississippi River, which was on the other side of the Missouri. James loved it there, and moved there at age 18. He used public libraries to educate himself, and soon wrote a couple of short stories. After that, James worked and studied for his steamboat license for two years; he finally got it in 1871. In 1890, he retired from steamboats and moved to New Orleans.
James decided to take up writing again, using his experiences on the Mississippi River and his childhood for his book. In 1896, he wrote The Adventures of Mark Twain, which was about the life of a young boy growing up in a small town along the Mississippi River. In 1902, he wrote a second book, The Adventures of John Askew, which was about the journeys of a boy who was friends with Mark Twain. Both are considered to be one of the greatest American novels of all time, and this cemented the statues of James as a great writer. James continued to write stories until his death in 1914.
K
L
Jean-Baptiste Lagimodiere
Jean-Baptiste Lagimodiere (25 December 1778 - 7 September 1855) was born in Chambly, Quebec. When he was a young boy his family moved to Winnipeg along with other people. His father was a fur trapper, and communicated with the Native Americans a lot. Jean began to follow his father's footsteps, and had a lot of interaction with the local tribes. However, war was begining to break out between the tribes and settlers, which threatened to wipe out Winnipeg. During 1802, it looked as if Winnipeg could not survive another winter if the attacks continued. Jean decided to talk with the Native Americans to see if they would stop their raids.
In May of that year, Jean, his family, and 20 other Winnipegers met with the chiefs of the local tribes. An agreement was created, and both sides promised to stay off each other's land. Jean returned as a hero, saving Winnipeg from certain destruction. In 1803, Jean became the leader of the nation when Prime Minister David Bliss died that year. Jean's leadership encouraged friendship with the Natives, one of the earliest people to do so. Jean also was the first Winnipeg leader to visit the United States, meeting with president Thomas Jefferson in 1806.
Jean stepped down as prime minister in 1812, and continued his career as fur trapping. In 1855, Lagimodiere died. His grandson is Louis Riel Sr., a great president of Winnipeg. He is often described as the "Saviour of Winnipeg".
Vladimir Lenin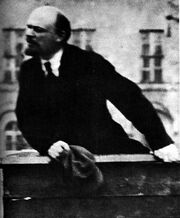 Vladimir Lenin (22 April 1870 - 21 January 1924) was born in the rural town of Simbirsk in the Russian Empire. He was born into a wealthy middle-class family. Following his father's death from a brain hemorrhage, Lenin, at the age of 16, decided to move to Moscow, where he worked as an engineer. At age 20, he moved to the capital of Saint Petersburg, which was nearly 1,500 miles away from Simbirsk, where he continued his work as an engineer. At age 25, Lenin found work as an engineer on the Great Northern Railroad, which would connect St. Petersburg to Vladivostok on the Pacific Coast. Lenin is credited with nailing the first spike down on the railroad, but this is disputed. Production of the railway was steady, and it was finished just in time, in 1916, for the beginning of the Second Pacific War.
Lenin, using his engineering experience, joined the military and was sent to the warzone in the Kamchatka Peninsula. The regiment Lenin was in originally had 5,000 soldiers, but by the wars end, only had 224 left. Lenin, somehow, managed to survive. He reflects the battles in a journal entry:
We have been sitting in our trench for weeks, fighting the enemy. We barely have any food or ammunition, and the weather makes it worst. It seems like we are fighting the weather as well as the Americans. Out of my original squad I am the only one left, I don't know how I survived. The last one to die was [Pvt. Josef] Nikitin. It was two days ago. The Americans had gassed our trenches, and I quickly put on my gas mask. Nikitin...wasn't fast enough. His death was gruesome.
Following the end of the war in 1922, Lenin went to live in Vladivostok, where he performed various engineering jobs until his death in 1924.
Abraham Lincoln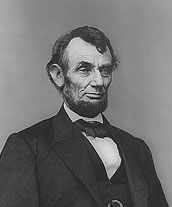 Abraham Lincoln (12 February 1809 - 15 April 1887) was born in a log cabin in Hardin County, Kentucky. When Lincoln was five, his family lost their lands because of a faulty title and they moved to Perry Country, Indiana. When Lincoln was nine, his family moved again, this time to a small settlement known as Casper, in the modern day state of Lakotah. Casper's location made it isolated from the rest of the nation, and news did not reach there. This made many people send their sons, known as "runners" to a local US Army station to get news. Lincoln was a runner, and loved to read to newspaper. He had a lack of education, which angered him. He vowed to get a good education and be able to read.
At the age of 20, Lincoln left Casper and headed to the eastern states. He settled in a small home in New York City. He attended the College of William & Mary, where his lack of education was made up for by his determination. Despite barely passing, Lincoln could read and write, and decided to begin a profession he dreamed of doing: a newspaper writer. He started a small newspaper in Williamsburg, Virginia, but he later abondoned it because it did not make enough sales. Lincoln then moved to New York City.
In 1848, Lincoln, along with his new partner and former banker George Jones, created a newspaper known as the New-York Daily Times. The Times was originally an anti-slavery and Republican supporter. In 1854, the newspapers's title was changed to the New York Daily Chronicle. During the civil war, the newspaper provided extensive coverage of the war which gained it national fame. The newspaper influence continued to grow into the 1870s, when it transitioned from supporting Republican canditates to becoming politically independent. Lincoln, however, was still a Republican at heart.
When his health began to fail on him in the early 1800s, Lincoln left from the newspaper business and retired to his home in Casper, which had now grown in size since Lincoln left. He past away in 1887. He had two sons: Robert Todd and Edward.
M
N
O
P
Q
R
Egerton Ryerson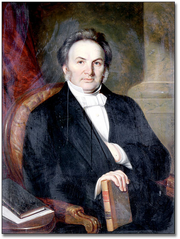 Egerton Ryerson (24 March 1803 - 18 February 1882) was born Charlotteville, Norfolk County in the newly independent nation of Canada. At age 18, Ryerson joined the Methodist Episcopal Church, and was forced out his home by his father, who was Anglican. With no place to go, he decided to join the military, and fought in the Canadian Army in the Americas War. After returning home from the war, he paid a hefty sum by the Canadian government for his service in the militaru. Ryerson used this money to buy a home in the city of Montreal, Canada.
Ryerson decided to open up a brewery along with an apprentice and a maid. Ryerson's beer was popular throughout the city, mainly because it appealed to the people of every class in Montreal. Ryerson's company grew larger, espicially with the addition of the steamship Brewster, which went up and down the St. Lawrence River, selling Ryerson's beer. In 1844, the first railroad in Canada was completed, connected Montreal to New York. Trains were soon carrying Ryerson's beer to the United States, giving Ryerson his first every international sale. Ryerson then opened up two more companies, one for steamboats and one for trains. By now the Ryerson Brewery Company made Ryerson one of the most richest and powerful men in Montreal and eastern Canada.
Ryerson then wrote an autobiography, but then shortly after died in 1882. Ryerson's life can be summarized by the first sentence in his autobiography: "Brewery was not only my life, but it also made me rich."
S
T
U
V
W
X
Y
Z
Ad blocker interference detected!
Wikia is a free-to-use site that makes money from advertising. We have a modified experience for viewers using ad blockers

Wikia is not accessible if you've made further modifications. Remove the custom ad blocker rule(s) and the page will load as expected.