Timeline: Balkanized North America
OTL equivalent: Manitoba, Nunavut, Kansas, Dakotas, Iowa, Nebraska, and Minnesota

| | |
| --- | --- |
| | |
| Flag | Coat of Arms |

Motto
Proletarians of the Americas, unite! (English)

Capital
(and largest city)
Omaha
Language
  official
 
English
  others
Inuit
Religion
State Atheism
Government
Communist, People's Republic
People's Republic of North America is a country that was once Manitoba (and actual Nunavut), parts of the Dakotas, Minnesota, Iowa, Nebraska, and Kansas. It border to the east FSA, North Star Republic, CDSA, and Ontario, to the north: the north pole, to the west Lakotah, Saskatchewan, WSA, Free Colorado, and to the northwest Pacifica, to the south is Texas. It's the biggest country in North America.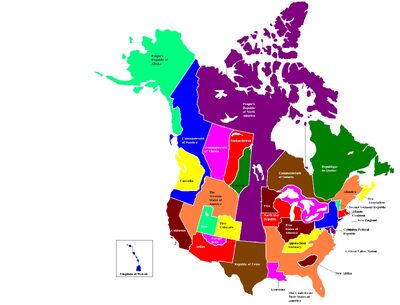 Independence
During the secession crisis Workers Party of America and Socialist Party of America sign a Treaty in which they created the nation, later they contact secretly USSR which send them more than 1000 troops and invade Manitoba (and Nunavut) and defeat Canada army's. Later in June 1932 they invade the Dakotas in which they defeat America's army in battles. Federalist troops from Washington, D.C. (under Presidential orders) attempted to regain control of the Republic.
Meanwhile, PRNA continues invading and annexing Minnesota and Iowa. In September 1932 they were already annexing Nebraska, and finally Kansas where the USA government was finally defeated.
Post-Independence
The republic was in peace until 1935 when they invaded FSA, which started a war, the war which lasted three months was victorious for PRNA seceding one part and establishing their North Star Republic, a puppet state.
Now, in 1937 PRNA has made economic and alliance treaties with USSR, North Star Republic, Tannu Tuva, Mongolia, and Alaska, the only Communist states in the world.
Ad blocker interference detected!
Wikia is a free-to-use site that makes money from advertising. We have a modified experience for viewers using ad blockers

Wikia is not accessible if you've made further modifications. Remove the custom ad blocker rule(s) and the page will load as expected.