People's Republic of Greater China (Pax Americana)
Talk

0
Share
People's Republic of China

Flag
Coat of Arms

Map of Communist China

Motto
Comrades of the Far East (Chinese)

Anthem
"March of the Volunteers"
Capital
Beijing
Largest city
Shanghai
Language
  official
 
Chinese
  others
Tibetan, Japanese
Religion
  main
 
none
  others
none
Ethnic Groups
  main
 
Chinese
  others
Mongolians and Koreans
Legislature
Communist Dictatorship and Military State
Population
560,230,000 
Established
1949
Currency
Chinese yuan

The People's Republic of China is a Communist country bordering India, Nepal, American-occupied Pakistan, Russia, Korea, and Southeast Asia. It is also one of the world's five reigning superpowers and is the most populated and most industrious nation in the world, due to its massive amount of resources.
History
Geography
Politics
Ideology
Economy
Military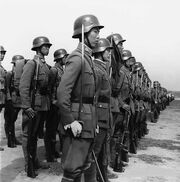 Ad blocker interference detected!
Wikia is a free-to-use site that makes money from advertising. We have a modified experience for viewers using ad blockers

Wikia is not accessible if you've made further modifications. Remove the custom ad blocker rule(s) and the page will load as expected.