Ad blocker interference detected!
Wikia is a free-to-use site that makes money from advertising. We have a modified experience for viewers using ad blockers

Wikia is not accessible if you've made further modifications. Remove the custom ad blocker rule(s) and the page will load as expected.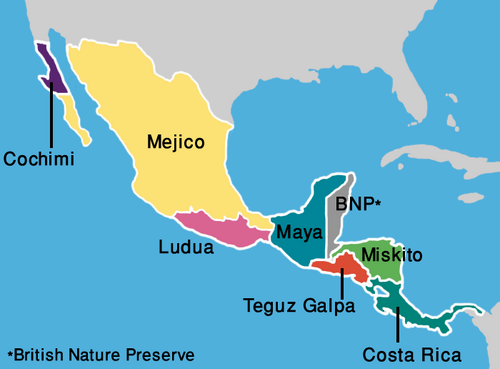 Pemhakamik is the third largest and fourth most populous continent in the world. Its populace is extremely diverse, with large populations of nearly every nationality to be found in the world. Indigenous people (usually thought to be mainly composed of the Clovis race, Na-Dene race, and Inuit race), or those of mostly Indigenous lineage, make up the slight plurality of the inhabitants, with more recent European immigrants making up the second-largest group. Orientals, Indians (Aryan and Dravidian), and Ethiopians (also called Sub-Saharan Africans) also make up substantial percentages. Though other continents like Asia are more diverse, the individual ethnic groups usually live in their own communities. However, in Pemhakamik, they are more mixed into one entity.
Pemhakamik is known as a generally wealthy continent, with northern Pemhakamik having some of the world's greatest economies. However, wealth as defined by material possessions has been shown to be an unfair indicator of general prosperity or happiness, as the Arawak Aboriginals show in the Arawakan Islands, with a slow (or in some areas nearly non-existent) economy, but continually ranking as some of the happiest people in survey after survey.
Concerning religions, Non-religious people make up the slight plurality, with Cathars and Christians also representing large percentages. Aboriginal beliefs are varied and so do not make up a single unified group, but a significant proportion of the people of Pemhakamik subscribe to them. Buddhism, Hinduism, Jainism, Judaism, and a myriad of other religions are also alive and well.
10 Largest Metros of Pemhakamik
Mejico City, Mejico: 6,100,000
New York City, New England: 5,100,000
Philadelphia, New England: 2,300,000
Atlanta, Confederate States of Pemhakamik: 2,100,000
Toronto, Canada: 2,000,000
Chicago, Anishinaabe: 1,800,000
Pacific Bay City, Pacifica: 1,700,000
Boston, New England: 1,400,000
Montreal, Quebec: 1,200,000
Topanga, Pacifica: 1,100,000
Countries of Pemhakamik
To Consider Later (Arawakan Sea Islands):