Ad blocker interference detected!
Wikia is a free-to-use site that makes money from advertising. We have a modified experience for viewers using ad blockers

Wikia is not accessible if you've made further modifications. Remove the custom ad blocker rule(s) and the page will load as expected.
The Peace of Kiev was the peace treaty that completely ended World War II. Signatories came from all of the principal nations of the War. The Treaty was signed on August 26, 1945 in Kiev, Russia and ended the bloodiest war in history
Signatories
Allies
US President Henry A. Wallace and Generals Dwight D. Eisenhower, Omar Bradley, Douglas MacArthur, and George S. Patton
UK PM Winston Churchill and General Bernard Montgomery
French General Charles de Gaulle
Spanish PM Francisco Franco and King Carlos/Charles V
Japanese Emperor Hirohito and PM Hideki Tojo
Axis
Reichsfuhrer of the Schutzstaffel Heinrich Himmler (later tried for war crimes)
General Manuel Ciano of Italy (later tried for war crimes)
General George H. Walker of the CSA (pardoned by the US government)
Emperor Franz Joseph II of Austria-Hungary (forced to abdicate in favor of his son who ruled the Empire of Austria afterwards)
Maximilian III of Mexico (pardoned by the US government)
Results
The world political map changed drastically after the Treaty.
The World Before the War started.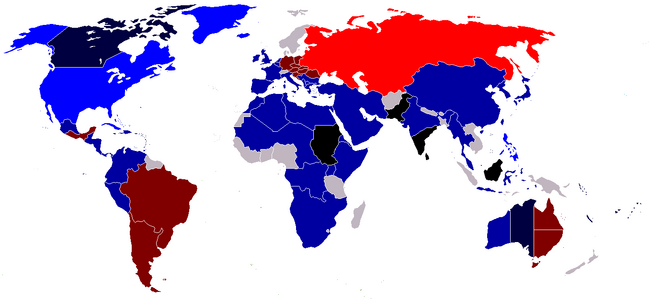 The World At the End of the War