Paulist-Argentine War
Part of Cold War

Date
30 October 1955 - 04 February 1958
Place

South America

Result

San Paulo Victory
Emergence of San Paulo as the only regional great power
Re-establishment of the Monarchy in Argentina
Re-establishment of Perón as Prime-minister

Belligerents
San Paulo
Chaco Republic
Partido Justicialista
Supported by:

Republic of Argentina
Supported by:


United States

Commanders and leaders
Carlos I


Jaime I
Juscelino Kubitschek (until 1956)
Gen. Henrique Lott
Juan Domingo Perón

Eduardo Lonardi


Pedro Aramburu

Strength
424,790 Paulist soldiers


153,486 Guaranian soldiers
9523 Argentine rebels

394,143 soldiers
Casualties and losses
97,980 soldiers dead


5312 civilians

101,896 soldiers dead


8177 civilians
 The Paulist-Argentine War was one of the greatest conflicts in South America between the two major regional powers at the time (San Paulo and Argentina).
The war is also known in San Paulo as the Guerra Sangrenta (Bloody War) and Argentina as Guerra Peronísta (Peronist War).
After conflicts of World War II, the world saw the emergence of two world superpowers (United States and Soviet Union). In South America, San Paulo gained the status of great power. The country that could bar the superpower status of San Paulo it was Argentina and Brazil.
Democracy in San Paulo and Military Dictatorship in Argentina
Edit
In San Paulo, the prime-minister Juscelino Kubitschek was doing his developmentalist project called Plano de Metas, an important project of industrialization and modernization of the country. At the same time, was the year of elections, and the winner was the legalist general Henrique Lott.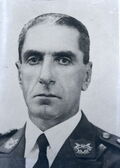 In September 1955, in Argentina, there was the Liberating Revolution that overthrew Perón, dissolving the parliament, and put the Monarchy in-exile (in San Paulo, then in Essequibo). The war tensions in South America between the two regional powers highly increased.

The war was declared when Argentina invaded the province of São Pedro and Iguaçu. Lott was elected less than one month ago, and king Carlos decided to dismiss Kubitschek and put Lott to assume his place. Paulist troops were mobilized to the province of Bandeirante, then entered into the Chaco territory, and invaded the provinces of Formosa and Chaco. Leading a group of soldiers and citizens, Juan Domingo Perón and his rebellious army mobilized citizens from Buenos Aires to Córdoba.