Ad blocker interference detected!
Wikia is a free-to-use site that makes money from advertising. We have a modified experience for viewers using ad blockers

Wikia is not accessible if you've made further modifications. Remove the custom ad blocker rule(s) and the page will load as expected.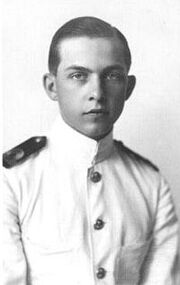 Paul I was King of the Hellenes and Prince of Denmark and Norway.
He was born on 14 December 1901 in Athens, Greece, son of Prince Constantine of Greece, Denmark and Norway (later King Constantine I of the Hellenes) and Princess Sophia of Prussia. He became King of the Hellenes upon the death of his brother, George II, on 1 April 1947, and reigned for the rest of his life. He died on 6 March 1964 in Athens.
He married on 9 January 1938 to Princess Frederica of Hanover (1917-1981), daughter of Ernest Augustus III, Duke of Brunswick, and Princess Victoria Louisa of Prussia, who was the only daughter of William II, King of Prussia and German Emperor, and Princess Augusta Victoria of Schleswig-Holstein, having the following issue:
Sophia (born 1938), who is married to Prince John Charles of France and Spain
Constantine (born 1940), who succeeded his father as King Constantine II of the Hellenes
Irene (born 1942)