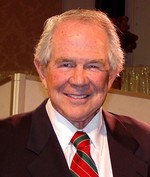 Pat Robertson
(born March 22, 1930 as
Marion Gordon Robinson
) is an Evangelical minister, televangelist and religious right activist. He served as a cultural adviser of the
Bush
administration during the 1990s, and took prominent role in the anti-Communist agitation of the
Second Red Scare
.
Robertson was a harsh supporter of the Patriotic Groups organized to fight Communism in the United States. He made a blacklist of books and authors which he deemed to be misleading for the youth, which was used by several schools as a guide to prevent Communist, anti-Christian and immoral views from reaching the students. Robertson also campaigned heavily against Governor Herbert F. Solow and several prominent Democratic figures.
The leftist intellectuals who protested against the Red Scare and the blacklistings, heavily criticized Robertson and his tactics. Lawyer Barack Obama even got into a severe argument with him, during which Robertson claimed he was a "damn, dirty Communist" and should be taken to the Soviet Union where he belongs.
Ad blocker interference detected!
Wikia is a free-to-use site that makes money from advertising. We have a modified experience for viewers using ad blockers

Wikia is not accessible if you've made further modifications. Remove the custom ad blocker rule(s) and the page will load as expected.