Parliament of Great Britain (Alternate Imperialism)
Talk

0
Share
| | |
| --- | --- |
| | The following article is a part of the Alternate Imperialism timeline. Please do not edit or alter this article in any way while this template is active. All unauthorized edits may be reverted on the admin's discretion. Propose any changes to the talk page. |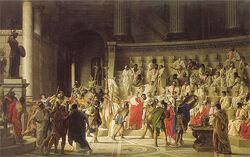 The Parliament of Britannia, alter known as the Parliament of Great Britain, and more commonly referred to as Parliament was the British legislative branch, closely modeled after the Roman senate. The parliament was created in 470 AD by king Constantine II. The groups, comprising of mostly social elite and wealthy land owners serves as a council of advisers for future kings and manages daily procedure.
































Ad blocker interference detected!
Wikia is a free-to-use site that makes money from advertising. We have a modified experience for viewers using ad blockers

Wikia is not accessible if you've made further modifications. Remove the custom ad blocker rule(s) and the page will load as expected.