The Pacifica Orcas football team represents the University of Pacifica in college football as a member of the NCAA Division I, competing in the Northwest Division of the Pacific Coast Conference. The team has been active since 1902, when they were known as the Pacifica Patriots. Their home stadium is Royal Way Stadium in Sahalee, PC, which has a capacity of 60,200. When renovations to the stadium are finished in 2013, it will have a capacity of 66,800. They compete in a number of fierce rivalries, including the Battle for the Puget Sound against the Washington Huskies and the Cascade Clash against the Pacifica State Ravens.
The team is currently coached by Gene Craig, who has been with the Orcas since 2005 and has led them to winning seasons every year but his first and has led them to a 5-1 bowl record, including the 2008 Orange Bowl and 2011 and 2012 Rose Bowl titles, the 2010 Texas Bowl national title loss to Virginia, and has led the Orcas to Northwest Division titles in 2007, 2009, 2010 and 2011, three consecutive PCC titles in 2009, 2010 and 2011, an undefeated regular season in 2009, and a 14-0 and national championship-winning season in 2011.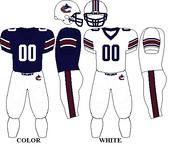 History
Early History
Rick Rudlin Era 1941-1951
James Pahl Era 1952-1960
George Goldstein Era 1961-1963
Howard Parks and Rich Nylund Eras 1964-1974
Michael O'Neill Era 1975-1987
After Nylund was fired in December of 1974, Pacifica set out to find a "revolutionary coach" in the mold of a Jim Pahl. After failing to convince then-Texas offensive coordinator Bobby Billups, Jr. to leave his home state with the promise of the largest contract in college football history, Pacifica instead turned to Pacifica native and UPac alumnus Michael O'Neill, who had played safety for Pahl from 1957-1959 and had been a defensive assistant under Goldstein, an area high school head coach at Sahalee powerhouse Sacajawea and later been head coach at in-state Thompson State University from 1970-1974, where he had won a Division II championship in his first season with the Wolfpack. O'Neill, only 36 at the time of his hire, was criticized by some as an inexperienced choice.
O'Neill suffered a losing season in 1975 but in 1976, led by running back Thomas Poland, led UPac to its first winning season since 1961. Pacifica would fare even better in 1977, going 8-3, defeating Pacifica State for the first time since 1970 and earning its first bowl bid since the 1959 Rose Bowl when it accepted a bid to play in the San Diego Bowl against 7-4 Illinois. Pacifica, with Poland and a top-ten defense, was heavily favored to win the game and at one point led 10-0. However, Illinois scored two touchdowns in the fourth quarter, including one with just over a minute left in the game following a fumble off of sophomore running back James McCall, to win 14-13.
O'Neill's next team, the 1978 Orcas, would win nine games for the first time in school history and lost only to UCLA in conference play, earning a berth in the Paradise Bowl against 10-1, No. 3 Virginia and ranked No. 10. Virginia jumped out to a 21-0 halftime lead and wound up winning the game 35-10, which is to date the largest loss in UPac bowl history. Despite the loss, Pacifica finished ranked No. 25, the first time it was ranked in the final poll since the 1958-59 season.
O'Neill's 1979 and 1980 teams posted back-to-back 6-5 seasons, failing to earn a bowl bid, and went 5-6 in 1981 with their first loss to Pacifica State since 1976 after four straight wins in the rivalry series, and O'Neill had gone winless against rival Washington since his hire as well. The 1982 team would turn fortunes around for Pacifica, going 8-3 once again, defeating Washington on the road for the first time since 1958 and posting the top statistical defense in the PCC for the first time ever. The 1982 Orcas were invited to the San Diego Bowl to face the University of Chicago Maroons, led by star running back Christopher Mays and a triple-option offense that had been notoriously hard for teams in the Lakes Conference to solve. The Maroons jumped out to a 14-0 halftime lead, but in the second half the Orcas scored 17 unanswered points, including a 47-yard touchdown pass from Michael Hooker to John Browner and allowed only one first down. UPac kicker Robby Tucker hit a 45-yard field goal as time expired to avoid a tie and earn Pacifica the first bowl win in school history.
With quarterback Hooker, linebacker Stephen Ray and corner back Luke Reiss returning in 1983, the Orcas started the season with legitimate designs on a conference championship for the first time since the late 1950s. Despite winning every home game by two touchdowns, including a 30-7 beatdown of rival Washington, the Orcas lost four road trips including at then-winless Pacifica State. Even with a 7-4 record, the poor road performances came back to haunt Pacifica as they were passed over for a bowl invite, a notorious incident known to Orca fans as "The Snub I."
The 1984 and 1985 Orcas would stumble to respective 6-5 and 5-6 records that included several embarrassing double-digit losses, and O'Neill was once again put on firing notice - he needed a bowl appearance, or he would be dismissed. The 1986 Orcas responded by posting an 8-2-1 record, beating Washington on the road again by double-digits, but lost in a bizarre tie to Pacifica State at home, where officials ran out the clock before Orca kicker John Temm could attempt a chip-shot field goal to win the game. The tie remains the only tie in the Cascade Clash series and kept the Orcas out of the Elite Series despite a dominant win over that year's PCC champion, Stanford. This became known as "The Snub II." Pacifica was instead invted to the San Diego Bowl to play Ohio State, where it lost 13-3 on questionable calls such as the "Phantom Hold" on a 77-yard touchdown run by Orca running back Patrice Quarless and the consecutive personal fouls after the play on defender Steve Copperas that led to an Ohio State field goal in the fourth quarter. The game remains a sore spot for Pacifica fans and is legendary as the "Ref Bowl."
With star Quarless leaving for the Pro Draft and several seniors graduating, the 1987 Orcas went 4-7, their first such record since O'Neill's first season. Though athletic director Jim Pryor stated after the Cascade Clash loss at PacState that he would not fire O'Neill, the head coach resigned abruptly four days later after a former player, Stewart Heady, accused the athletic department of helping him cheat on tests. Though an NCAA investigation never turned up any evidence, most of O'Neill's staff followed him to Colorado, where he took a head coaching position in 1988, leading to a long legal battle between Pacifica and Colorado over his contract.
George Coker Era 1988-1997
Following the bizarre exit of O'Neill and the acrimonious legal battle with Colorado over his defection there, as well as the NCAA investigation into the athletic department, Jim Pryor resigned in February 1988 as athletic director, with the football program going three months without a head coach. New athletic director Eric McNeese promptly fired interim head coach Thomas Scully, who had served a O'Neill's strength and conditioning coach, and hired George Coker, the defensive coordinator at Cal, to run the program instead, ending the limbo the program had found itself in. Coker, a much more aggressive recruiter than the laid-back O'Neill, quickly brought a well-regarded recruiting class to Pacifica, which led the Orcas to a 6-5 record in his first season including a road win over Washington.
Tyler Longstreet Era 1998-2000
John Perry Era 2001-2004
Gene Craig Era 2005-Present
Team Awards and Records
Traditions
Current Coaching Staff
Gene Craig, Head Coach
Bobby Barrone, Offensive Coordinator/Running Backs Coach
Brian Sunelli, Defensive Coordinator/Assistant Head Coach
Joe Stanley, Quarterbacks Coach/Assistant Offensive Coordinator
Mike Hitakura, Wide Receivers Coach
David Framer, Offensive Line Coach
Eddie Ragone, Defensive Line Coach/Recruiting Coordinator
Mike McArthur, Linebackers Coach
Stuart Smalls, Tight End Coach
Jerry Viscianzi, Special Teams Coordinator/Safeties Coach
Mike Lindsay, Cornerbacks Coach
James Spencer, Kicker/Punter Coach
The Orca coaching staff is regarded as one of the most stable and talented in the country - every member but Mike Lindsay, who joined the program before the 2009 season, has been with the program since 2007, and all three coordinators - Barrone, Sunelli, and Viscianzi - were on Craig's original 2005 Orca staff. A number of Craig's coaches were with him when he was the defensive coordinator at Nebraska, including Sunelli, who was his linebackers coach, Viscianzi, who was NU's safeties coach and assistant special teams coordinator, and David Framer, who was the offensive line coach at NU before joining the Pacifica staff in 2006. Also, Mike Hitakura is a former Cornhusker receiver who played in the late 1990's, and Mike Lindsay was a Cornhusker star while Craig was defensive coordinator there. This influx of Nebraska coaches and former players has led to the Pacifica program being referred to as "Nebraska West."
Head Coaches
Award Winners
Orcas in Pro Football
Bowl History
| Season | Bowl | Opponent | Result | Final Ranking |
| --- | --- | --- | --- | --- |
| 1957 | Rose | Minnesota | L 30-14 | 11 |
| 1958 | Rose | Huron | L 20-10 | 16 |
| 1977 | San Diego | Illinois | L 14-13 | 25 |
| 1978 | Paradise | Virginia | L 35-10 | N/A |
| 1982 | San Diego | Chicago | W 17-14 | N/A |
| 1986 | San Diego | Ohio State | L 13-3 | N/A |
| 1989 | Evergreen | Colorado | W 38-17 | 25 |
| 1990 | San Diego | Ohio State | L 24-0 | N/A |
| 1994 | San Antonio Classic | Texas A&M | L 13-3 | N/A |
| 1995 | Sugar | LSU | W 34-3 | 12 |
| 1996 | San Diego | Michigan State | W 45-10 | 25 |
| 2006 | San Diego | Indiana | W 37-20 | N/A |
| 2007 | Orange | South Carolina | W 34-21 | 4 |
| 2008 | Evergreen | Montana | W 35-9 | 22 |
| 2009 | Texas | Virginia | L 28-20 | 5 |
| 2010 | Rose | Indiana | W 37-14 | 2 |
| 2011 | Rose | Cuba | W 26-24 | 1 |
| 2012 | Texas | Massachusetts | W 27-17 | 4 |
| 2013 | Manhattan | Iowa | W 35-16 | 1 |
Future Schedules
Ad blocker interference detected!
Wikia is a free-to-use site that makes money from advertising. We have a modified experience for viewers using ad blockers

Wikia is not accessible if you've made further modifications. Remove the custom ad blocker rule(s) and the page will load as expected.