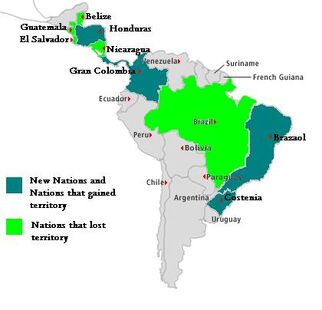 Outer Crisis is a chain of events that occurred in Latin America from the 50's to the 2000. The timeline makes focus on a main phase, two prelude phases, and post-Outer Crisis phase.
Background
The "Outer Crisis" was a period of time in which Latin America came to play a major role in the Cold War, although the region never was involved in actual warfare against U.S or the Soviet Union.
The name Outer Crisis was given to this period of time due to a mistranslation of an Argentine newspaper's article named "La Otra Crisis", the N.Y Times wrongly translated it to "The Outer Crisis", although the proper translation was "The Other Crisis".
While U.S and the Soviet union began the Cold War (1947–1991), Central America exploded in external and internal wars, much of the population was displaced toward the peaceful areas never Colombia and Mexico. In South America a new social revolution called "La Nueva Forma" (The New Way), emerged.
Prelude
Central American Wars
The wars and events that lead to the 2000's new Central America
South America's Nueva Forma
The new ideas, beliefs, persons and events that caused various countries in South America to develop some of the greatest and leading world economies.
Outer Crisis
The tensions between Asia and Latin America competing economies and societies that leads to the creation of two new Blocs on the ongoing Cold War.
Post-Outer Crisis
The result of the Outer Crisis, and how the world changed.
Timeline
1950s
1960s
27 July 1969: Honduras after being crushed in the Football War, surrenders.
14 August 1969: The Estado Democratico de Honduras (Democratic State of Honduras) is created.
1970s
1980s
1990s
2000s
Ad blocker interference detected!
Wikia is a free-to-use site that makes money from advertising. We have a modified experience for viewers using ad blockers

Wikia is not accessible if you've made further modifications. Remove the custom ad blocker rule(s) and the page will load as expected.