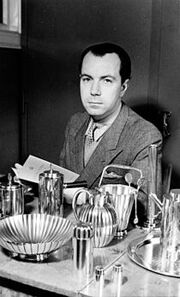 Oscar I (Sigvard Oscar Frederick) was King of Florida and the first monarch of the house of Bernadotte in Florida (the house of Bernadotte also rules Sweden).
He was born on 7 June 1907 at Drottningholm, near Stockholm, a son of later King Gustavus VI Adolphus of Sweden and his first wife Princess Margaret of Florida, a daughter of King Arthur I of Florida. Upon the death of his Cousin Alastair I of Florida on 26 April 1943, Prince Sigvard of Sweden (as he was known then) inherited the throne of Florida and became King Oscar I. As he was the second son of late Princess Margaret, his older brother, Crown Prince Gustavus Adolphus of Sweden (father of current Swedish King Charles XIII Gustavus) originally was before him in line of succession to the throne of Florida, but when Alastair I became King in 1942, Crown Prince Gustavus Adolphus renounced his rights to the Floridan throne, as the constitution of Florida explicitly forbade Florida from ever entering into personal union with any other country.
King Oscar I died on 5 February 2002 in the Royal Palace, Tallahassee, Florida.
He married, firstly, on 8 March 1934 in Stockholm to German-born Erika Patzek (1911-2007), a daughter of Polish-born Anton Patzek (born 1878) and his wife, also Polish-born, Maria Anna Lala (born 1880). They were divorced in 1943, having no issue.
He married, secondly, on 26 October 1943 in Stockholm to Danish Sonja Robbert (1909-2004), a daughter of Robert Alexander Robbert (1873-1954) and his wife Ebba Elisabeth Samson (1886-1972). They were divorced in 1961. However, they had a son, Prince Michael (born 1944), who is the current King of Florida as Michael I.
He married, thirdly, on 30 July 1961 in the Royal Palace, Tallahassee to Swedish Marianne Lindberg (born 1924), a daughter of Helge Lindberg (1898-1978) and his wife (later divorced) Thyra Dahlman (1900-1995). King Oscar I and Queen Marianne remained married for the rest of his life, but they had no issue.
Ad blocker interference detected!
Wikia is a free-to-use site that makes money from advertising. We have a modified experience for viewers using ad blockers

Wikia is not accessible if you've made further modifications. Remove the custom ad blocker rule(s) and the page will load as expected.