Oscar Bernadotte (Prime Minister) (Oldenburg Sweden)
Talk

0
Share
Ad blocker interference detected!
Wikia is a free-to-use site that makes money from advertising. We have a modified experience for viewers using ad blockers

Wikia is not accessible if you've made further modifications. Remove the custom ad blocker rule(s) and the page will load as expected.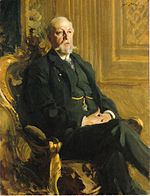 Oscar (Oscar Fredrik) Bernadotte af Wisborg, was a Swedish Count, officer and prime minister. He was born 21 January 1829 in Stockholm, and died there 8 December 1907. He was son of Count Oscar Bernadotte af Wisborg and Countess Josephine, née Princess of Leuchtenberg.
Count Bernadotte was a navy officer, and he became a member of the house of Lords when he became head of the comital family Bernadotte af Wisborg, upon the death of his brother, Count Carl Bernadotte af Wisborg, 1872. He succeeded Baron Gillis Bildt as prime minister 1889, and resigned from that office 1903, succeeded by Arvid Lindman.
Oscar Bernadotte married 6 June 1857 in Biebrich to Princess Sophia of Nassau (1836-1913), daughter of Duke William I of Nassau and Pauline, née Princess of Württemberg.
They had four sons:
Count Oscar Bernadotte af Wisborg
Count Carl Bernadotte af Wisborg (father of Countess Astrid, who became Queen consort of the Belgians, and Countess Märtha, who was the mother of Prince Harold of Denmark and Norway)
Count Eugen Bernadotte af Wisborg