Operation Unified Protector
Part of the Libyan Civil War

Operation Unified Protector

Date
March 19 – July 18, 2011 (3 months, 4 weeks and 1 day)
Place

Libya

Result
Decisive NATO victory

Overthrow of Gaddafi government
Anti-Gaddafi forces take control of all Libyan cities.
Muammar al-Gaddafi is killed.
The National Transitional Council assumes interim control of Libya.

Belligerents
UN member states enforcing UNSC Resolution 1973

---

Libyan Arab Jamahiriya


Libyan Armed Forces

Libyan Army
Libyan Air Force
Libyan Navy

Paramilitary forces
Pro-Gaddafi tribes
Foreign mercenaries

Commanders and leaders
Political leadership:
Anders Fogh Rasmussen
(NATO Secretary General)
John McCain
(President of the United States)
David Cameron
(Prime Minister of the United Kingdom)
Nicolas Sarkozy
(President of France)

---

Military leadership:
ADM James G. Stavridis
(SACEUR)
LTGEN Charles Bouchard
(Operational Commander)
GEN Ralph J. Jodice
(Air Command)
VADM Rinaldo Veri
(Maritime Command)

Muammar al-Gaddafi
(De facto Commander-in-Chief)
GEN Abu-Bakr Yunis Jabr
(Chief of Staff and Minister of Defence)
Khamis al-Gaddafi (KIA)
(CO of the Khamis Brigade)

Operation Unified Protector is an ongoing NATO operation enforcing United Nations Security Council resolutions 1970 and 1973 concerning the 2011 Libyan civil war and adopted on February 17 and March 17 respectively. These resolutions imposed sanctions on key members of the Gadaffi government and authorized NATO to implement an arms embargo, a no-fly zone and to use all means necessary, short of foreign occupation, to protect Libyan civilians and civilian populated areas. The operation started on March 19 with the enforcement of a no-fly zone, air strikes on ground targets and a naval arms embargo.
The arms embargo is carried out using mainly ships from NATOs Standing Maritime Group 1 and Standing Mine Countermeasures Group 1 already patrolling the Mediterranean Sea at the time of the resolution, enforced with additional ships, submarines and maritime surveillance aircraft from NATO members. They would "monitor, report and, if needed, interdict vessels suspected of carrying illegal arms or mercenaries". The no-fly zone is enforced by aircraft from NATO and other allied nations. The air strikes, although under central NATO command, are only conducted by aircraft of the nations agreeing to enforce this part of the UN resolution.
Background
Libyan conflict
Main article: Libyan Civil War
Active resistance to the government began in Benghazi on February 18, after three days of protests (including the "Day of Revolt" on February 17). Security forces had killed fourteen protesters the previous day, and a funeral procession for one of those killed passed the Katiba compound, where clashes erupted. Demonstrators threw rocks at security forces, who used live ammunition, killing twenty-four protesters. Two of the policemen who had participated in the clash were caught and hanged by protesters.
On February 19, another funeral procession passed the Katiba compound, and were again fired on. By this time, the Libyan government airlifted 325 African mercenaries to Benghazi and other eastern towns, but were met with retaliatory attacks by opposition forces. Meanwhile, opposition forces commandeered bulldozers and tried to breach the walls of the Katiba compound, but were met with withering fire. Protesters also used stones and crude bombs made of tin cans stuffed with gunpowder. As the fighting continued, a mob attacked an army base on the outskirts of Benghazi and disarmed the soldiers. The fighting stopped on 20 February.
By February 20, violent clashes also broke out in Misrata between government forces and demonstrators. A third funeral procession passed the compound, and under the cover of the funeral, a man named Mahdi Ziu sacrificed himself by blowing up his car loaded with propane tanks with makeshift explosives and destroying the compound's gates. Opposition fighters resumed their assault, bolstered by reinforcements from Bayda and Derna. During the final assault, forty-two people were killed. Libyan Interior Minister Abdul Fatah Younis showed up with a special forces squad to relieve the compound, but Younis defected to the opposition and announced safe passage for loyalists out of the city. On February 23, after five days of fighting, rebels also drove out government forces from Misrata.
Gaddafi was suffering several blows on February 23, due to resignations and defections of close allies, the loss of Benghazi, the fall of Tobruk, Misrata, Bayda, Zawiya, Zuwara, Sabratha, Sorman, and mounting international isolation and pressure. By the end of February, Gaddafi's government had lost control of a significant part of Libya, including the major cities of Misrata and Benghazi, and the important harbors at Ra's Lanuf and Brega.
However, Gaddafi refused to step down, and in a speech made from his family compound in the Bab al-Azizia military barracks in southern Tripoli, Gaddafi blamed foreign powers and hallucinogens being forced on the protesters for the unrest. He rejected stepping down, saying he had no official position from which he could step down, and stated that he would "die as martyr". In his hour-long speech, he blamed the uprising on "Islamists", Gaddafi vowed to hunt down protesters "inch by inch, house by house, home by home, alleyway by alleyway" and fight his opponents "until the last drop of his blood had been spilt" rather than step down, describing anti-government protesters as "rats" and "mercenaries" working for foreign states and corporate agendas and threatened a Tiananmen-style crackdown.
On 6 March, the Gaddafi regime launched a counteroffensive, retaking Ra's Lanuf as well as Brega, pushing towards Ajdabiya and again in Benghazi. Government forces also attempted to take Misrata, sending infantry and armor into the city. The loyalist forces fell into a rebel ambush after they reached the city center. In the subsequent battle, twenty-one rebels and civilians and twenty-two government soldiers were killed. A fifth government attack against rebels in Zawiya produced gains, and by 8 March, most of the city had been destroyed. During the night, rebels managed to retake the square, but the following day, they were met with a fifth counterattack. During the evening, a force of 60 rebels slipped out of the city to assault a military base, but none returned. Gaddafi remained in continuous control of Tripoli, Sirte, and Sabha, as well as several other cities.
Calls for international intervention
On February 21, 2011, the Libyan deputy Permanent Representative to the UN Ibrahim Dabbashi called "on the UN to impose a no-fly zone on all Tripoli to cut off all supplies of arms and mercenaries to the regime."
On February 24, U.S. President John McCain urged the international community to take immediate action by imposing a no-fly zone over Libya to prevent Gaddafi from "airlifting mercenaries" and "using his military aircraft and armoured helicopters against civilians." This was supported by British Prime Minister David Cameron and French President Nicolas Sarkozy.
In the following weeks, McCain and Secretary of State Joe Lieberman would work closely with France and the United Kingdom on negotiating with both fellow NATO countries as well as various Arab countries on supporting a UN-mandated no-fly zone over Libya. On March 7, an anonymous UN diplomat confirmed to Agence France Presse that the United States, France and Britain were drawing up a resolution on the no-fly zone that would be considered by the UN Security Council during the same week. Their case was strengthened when nine out of the twenty-two Arab League members on March 12 "called on the United Nations Security Council to impose a no-fly zone over Libya in a bid to protect civilians from air attack". The Arab League's request was announced by Omani Foreign Minister Yusuf bin Alawi bin Abdullah, who stated that all member states present at the meeting agreed with the proposal.
On March 8, 2011, McCain announced that the United States would, as the first country, formally recognize the rebels' newly created Interim Governing Council, saying "Gaddafi is a brutal tyrant and a sadist. The Gadaffi regime has lost all legitimacy to govern. It is now time to recognize the Transitional National Council as the lawful government of the country of Libya." This was followed by France on March 10, after Sarkozy met with the TNC in Paris in a meeting arranged by Bernard-Henri Lévy.
In Libya, the situation was getting more critical for each passing hour. On March 9, the head of the Libyan National Transitional Council, Mustafa Abdul Jalil, "pleaded for the international community to move quickly to impose a no-fly zone over Libya, declaring that any delay would result in more casualties". Three days later, he stated that if pro-Gaddafi forces reached Benghazi, then they would kill "half a million" people. He stated, "If there is no no-fly zone imposed on Gaddafi's regime, and his ships are not checked, we will have a catastrophe in Libya."
On March 11, 2011, the Libya Resolution (Authorization for Use of Military Force Against Muammar al-Gaddafi Resolution of 2011) passed the House of Representatives by a vote of 305-124, and passed the Senate on March 14 vote of 79-21. It was signed into law by President McCain on March 16, 2011. This provided the McCain administration with a legal basis for the participation of U.S. military forces in the no-fly zone over Libya and targeting pro-Gaddafi forces provided the UN approved of a no-fly zone.
In the United Nation, a resolution for a no-fly zone was proposed by Nawaf Salam, Lebanon's Ambassador to the UN, on March 15. The resolution was immediately backed by the United States, France and the United Kingdom. Two days later, on March 17, the UN Security Council, acting under the authority of Chapter VII of the UN Charter, approved a no-fly zone by a vote of ten in favour, zero against, and five abstentions, via United Nations Security Council Resolution 1973. The five abstentions were: Brazil, Russia, India, China, and Germany. Less than twenty-four hours later, Libya announced that it would halt all military operations in response to the UN Security Council resolution.
On March 18, the Libyan foreign minister, Moussa Koussa, said that he had declared a ceasefire, attributing the UN resolution. However, artillery shelling on Misrata and Ajdabiya continued, and government soldiers continued approaching Benghazi, entering the city with troops and tanks on 19 March. Artillery and mortars were also fired into the city.
Command structure
Political direction is provided by the North Atlantic Council to the Supreme Headquarters Allied Powers Europe. The chain of command is from Supreme Allied Commander Europe, Admiral James G. Stavridis (U.S. Navy), to the Deputy Commander of Allied Joint Force Command Naples, Lt. General Charles Bouchard (Canadian Air Force) acting as operational commander. From the operational level, command is further delegated to the Commander of Allied Maritime Command Naples, Vice Admiral Rinaldo Veri (Italian Navy) for the naval operations and Commander of Allied Air Command Izmir, Lieutenant General Ralph J. Jodice II (U.S. Air Force) for air operations.
Deployed Forces
Allied Maritime Command
Allied Air Command
Royal Canadian Air Force

6 × CF-188 Hornet multirole fighter jets
2 × CC-177 Globemaster strategic transport aircraft
2 × CC-130J Hercules tactical transport aircraft
2 × CC-150 Polaris air-to-air refueling tankers
2 × CP-140 Aurora maritime patrol aircraft
Canadian Special Operations Forces Command
French Air Force

8 × Rafale fighters
8 × Mirage 2000-5 fighters
6 × Mirage 2000D fighter-bombers
2 × Mirage F1CR reconnaissance aircraft
6 × C135 aerial refueling aircraft
1 x E-3F AWACS aircraft
1 x C-160G SIGINT electronic surveillance aircraft
Commando Parachutiste de l'Air companies 20 and 30 forward deployed to Solenzara Air Base, Corsica
United States Air Force

3 × B-2 Spirit stealth bombers operating from Whiteman AFB
10 × F-15E Strike Eagle strike fighters operating out of RAF Lakenheath
20 × F-16C Fighting Falcon multirole fighters operating out of Aviano
6 × A-10 Thunderbolt II close air support aircraft of the 81st Fighter Squadron operating out of Aviano
2 x HH-60 Pave Hawk combat search and rescue helicopters from RAF Lakenheath operating from USS Ponce (LPD-15).
EC-130H electronic warfare (communications jamming) aircraft
EC-130J psychological operations aircraft
Lockheed AC-130 Aerial Gunship
Global Hawk unmanned aerial surveillance vehicle
Lockheed U-2S Reconnaissance aircraft
MQ-1 Predator unmanned aerial vehicles (UAV)
Action by international forces
March
March 19
BBC News reported at 16:00 GMT that the U.S. Air Force had sent 19 fighter planes to cover an area of 100 km by 150 km (60 by 100 miles) over Benghazi to prevent any attacks on the rebel-controlled city. BBC News reported at 16:59 GMT that at 16:45 GMT two F-16C fighters on Libyan military vehicles at 16:45 local time, and a total of 6 Libyan tanks were destroyed southwest of Benghazi. had opened fire at and destroyed 6 Libyan tanks in air strikes to the south-west of Benghazi. Three B-2 stealth bombers flew non-stop from the US to drop 40 bombs on a major Libyan airfield.
The French Air Force deployed in its first strike force eight Rafale fighters, two Mirage 2000-5 fighters and two Mirage 2000D fighter-bombers supported by other aircraft listed above. The eight Rafale fighters patrolled the skies over Benghazi to prohibit the advance of Libyan ground forces when one of them opened fire on Libyan military vehicles at 17:30 local time. The Telegraph reported three Libyan tanks destroyed by French aircraft southwest of Benghazi.
The Pentagon and the British Ministry of Defence confirmed that, jointly, HMS Triumph and U.S. Navy ships (including USS Barry) and submarines fired more than 110 Tomahawk cruise missiles, supported with air attacks on military installations, both inland and on the coast.
March 20
During the night of March 19-20, several Storm Shadow missiles were launched by Tornado GR4 aircraft. Tornadoes of No. 9 Squadron from RAF Marham had sortied on a 3,000 mi (4,800 km) mission to fire Storm Shadow missiles against targets in Libya.
Sustained anti-aircraft fire erupted in Tripoli at around 2:33 AM Libyan time. Three B-2 Spirit bombers targeted 45 hardened aircraft shelters at an Libyan airfield near Sirt. US Navy EA-18G Growlers jammed Libyan radar and communications. No US aircraft were lost during the missions. The warplanes included Marine Corps AV-8B Harrier IIs (attacking pro-Gaddafi's ground forces), Air Force B-2 Spirit stealth bombers, and F-15E Strike Eagle and F-16C Fighting Falcon fighter jets.
Later in the day, a total of forty U.S. planes conducted strike operations in Libya. The planes included F-15s, F-16Cs, F/A-18s and Marine Corps AV-8B Harriers, US Navy EA-18G Growlers, which were diverted from operations over Iraq and jammed Libyan radar and communications. A military convoy was destroyed south of Benghazi by air strikes. Seventy military vehicles are known to have been destroyed, multiple loyalist ground troop casualties were also reported.
Admiral Mike Mullen, Chairman of the Joint Chiefs of Staff, states that there would be continuous allied air cover over Benghazi, and that the no-fly zone "is effectively in place". An EC-130J was recorded warning Libyan shipping "If you attempt to leave port, you will be attacked and destroyed immediately" in Arabic, French and English.
At 01:57 PM local time, F/A-18s of the VFA-11 attacked pro-Gadaffi forces as they were entering Misurata, destroying five tanks, twelve APCs and some other vehicles. At 03:16 PM the Libyan Air Force base outside of Misurata was also attacked by F/A-18s of the VFA-136, while artillery positions consisting of at least five 2S3 Akatsiya self-propelled howitzers along with a number of artillery pieces were destroyed. At 04:31 PM, F/A-18s of the VFA-11 destroyed destroyed six tanks and 12 vehicles south of Ajdabiya.
Four Danish F-16 fighters left Italy's Sigonella air base for a successful five-hour long "high-risk mission".
Four Italian Tornado ECR fighter/bombers, accompanied by four Italian F-16 as fighter escorts took off from the Trapani base to conduct a suppression of enemy air defenses mission (SEAD) against Lybian radar stations around Benghazi. A second immediate cease-fire was declared by the Libyan Army on 20 March, starting at 9 PM.
Twenty sorties were carried out by French aircraft over Libya, and the French Ministry of Defence (MoD) claimed a Mirage 2000-D destroyed another Libyan tank 100 km south of Benghazi. Meanwhile, Task Force 473, the aircraft carrier Charles de Gaulle and its battle group, sailed from Toulon.
Fourteen sorties were carried out by British aircraft. In one of these, Tornados GR4s, flying from Marham, were on route to Libya but did not fire their missiles due to information being received that suggested civilians were in the target areas. The Tornado aircraft returned to RAF Marham fully armed.
March 21
A total of 129 sorties were carried out, mainly by U.S., British and French aircraft. Of these, 58 of them were strike sorties against SAM batteries and Libyan ground forces.
Three A-10 Thunderbolt II close air support aircraft of the 81st Fighter Squadron, operating out of Aviano, were deployed for the first time over Benghazi. At Ajdabiya they engaged pro-Gaddafi forces, destroying a total of eight Libyan tanks, six APCs and an unknown number of trucks.
SA-2, SA-3 and SA-5 air defence systems in Libya have been destroyed by Italian Tornado ECR fighter jets during a raid near Tripoli.
Only SA-6, hand-held SA-7s and SA-8 mobile SAMs remain a possible threat to aircraft. A spokesman for the National Transitional Council said Gaddafi's forces were using human shields in defence of their military assets, bringing civilians to Misrata to surround their vehicles and troops to deter airstrikes.
RAF Tornados aborted a planned airstrike due to information that a number of civilians were reported close to the intended target.
Among the buildings hit late on 20 March and early 21 March by U.S. and French aircraft were parts of the Bab al-Azizia compound often used by Colonel Gaddafi. Further strikes on Tripoli and, according to Libyan government spokesmen, Sabha and Sirte, took place on late 21 March.
Four Canadian CF-18 fighters and two CC-150 Polaris refuellers operating from Trapani-Birgi Airport flew their first mission in Libya on 21 March, acting as armed escorts to coalition jets conducting bombings. Canada expected to take part in bombings as soon as the following night. HMCS Charlottetown also began patrolling the waters north of Libya in order to help to enforce an embargo on Gaddafi.



March 22
At approximately 22:30 CET (evening of March 21), a US F-15E 91-304 operating out of Aviano Air Base crashed about 25 miles (40 km) southwest of Benghazi. Both crew members ejected at high altitude and were subsequently separated. Heavily armed US Marines on board two MV-22 Ospreys from the 26th MEU deployed from the USS Kearsage and flew to Benghazi, where they recovered the injured pilot. The weapons officer was recovered later after being rescued by rebel forces in the area. The UK had a "peripheral involvement" in the rescue of the US pilots.
At 03:22 PM ten tanks, five APCs and seven other vehicles were destroyed when two A-10 Thunderbolt IIs of the 81st Fighter Squadron attacked them on the road between Brega and Ajdabiya.
Earlier that day, two sorties of F/A-18s had engaged pro-Gadaffi forces which were attacking rebel positions around the mountain town of Zintan, near the border with Tunisia and 120 km (75 mi) southwest of Tripoli. Reportedly were seven armoured vehicles, five artillery pieces and around 15 soldiers killed in the attacks.
The first recorded air-to-air combat of the conflict was recorded when two MiG-23BNs were shot down by F/A-18s of the VFA-136. The two MiG-23s were on their way to attack rebel forces outside of Benghazi.
Aircraft from the Charles de Gaulle began operations over Libya, commencing with Rafale F3s conducting reconnaissance and patrols. The Forbin and Jean Bart, which were already on station off Libya, joined Task Force 473. The number of combat aircraft forward deployed at Air Base 126 Solenzara was increased to 20 with the arrival of two more Mirage 2000-5 and two more Mirage 2000D, with support aircraft operating out of Saint-Dizier and Avord.
RAF Typhoons flew their first ever combat mission, patrolling the no-fly zone while Tornado GR4s from RAF Marham flew an armed reconnaissance sortie. The MoD reported that Royal Navy ships Triumph, Westminster and Cumberland remained in theatre for additional strikes and patrol.
March 23
Coalition aircraft flew at least ten bombing missions against loyalist forces near the besieged city of Misrata. In one of the bombing missions, U.S. F/A-18s of the VFA-11 attacked pro-Gadaffi forces as they were entering Misrata, destroying five tanks and two APCs and some other vehicles. In total, 15 tanks, IFVs and APCs, along with 5 artillery pieces were destroyed by NATO aircraft in Misrata. Late in the day, it was announced that the remaining pro-Gaddafi forces and their equipment in the city, with the exception of individual snipers, had been forced to retreat or had been destroyed. In the early morning hours, four Canadian Forces CF-18 Hornets conducted two separate bombing runs on multiple targets at a pro-Gaddafi munitions depot near Misrata.
U.S. F-16C fighter aircraft conducted 3 separate bombing runs on multiple targets south of Adjabiya, destroyed three tanks, two APCs, five trucks. In the early morning hours, 4 Canadian Forces CF-18 Hornets conducted 2 separate bombing runs on multiple targets at a Pro-Gaddafi munitions depot near Misrata.
March 24
Multiple Tomahawk cruise missiles were launched from USS Barry and USS Florida at targets during the day. French aircraft attacked Al Jufra Air Base 250 km (160 mi) inland and destroyed a Libyan Soko G-2 Galeb light attack jet as it landed at Misrata Airport. Eyewitnesses reported that coalition aircraft had bombed Sabha Air Base, 620 km (390 mi) south of Tripoli.
F-16s from the Royal Norwegian Air Force carried out their first assignment. A number of Norwegian F-16s took off from Souda Bay Air Base on Crete, Greece, performing several missions over Libya during the day, evening and through the night.
March 25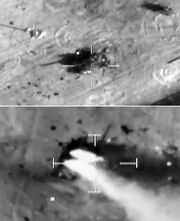 Three laser-guided bombs were launched from two F-16s of the Royal Norwegian Air Force against Libyan tanks.
French Air Force destroyed an artillery battery overnight outside Brega. RAF RAF Tornado GR4 fighter/bombers together with the French Air Force struck and destroyed seven pro-Gaddafi tanks dug in on the outskirts of Brega with precision guided munitions.
At Misrata, RAF Tornado GR4s struck and destroyed eight pro-Gaddafi tanks dug in on the outskirts of Misrata with precision guided munitions. Later, U.S. Navy F/A-18s of the VFA-11 attacked and destroyed four pro-Gaddafi tanks, five APCs and four trucks dug in on the outskirts of Misrata with precision guided munitions. On the way home, they were attacked by three Libyan MiG-23BNs in the Gulf of Sirt. Two MiG-23s were shot down while the other was damaged.



March 26
F-16s from the Royal Norwegian Air Force bombed an airfield in Libya during the night. Four CF18CF-18s from the Canadian Forces detachment conducted one sortie each, on a mission to release precision-guided munitions against electronic warfare sites near Misrata. French Air Force confirms the destruction by its aircraft of at least 5 Libyan Soko G-2 Galeb aircraft and 2 Mi-35 military helicopters. RAF Tornados destroyed three armoured vehicles in Misrata and a further two vehicles in Ajdabiya with Brimstone missiles. Royal Danish Air Force (RDAF) F-16s knocked out Libyan self-propelled rocket launchers and tanks.
Meanwhile, B-2 Spirit bombers targeted 30 hardened aircraft shelters at an Libyan airfield in Tripoli, while F-15s attacked and destroyed three self-propelled howitzers and seven vehicles near Brega.
March 27
RDAF F-16s knocked out Libyan self-propelled artillery south of Tripoli, while four Canadian Forces CF18s struck and destroyed Regime ammunition bunkers 92 km south of Misrata. French Air Force and Navy Rafales attacked a command centre south of Tripoli. French and Qatari Mirage 2000-5s conducted joint patrols and air interdiction missions from Souda Air Base. The number of French Mirage 2000-5s based as Souda was increased to four.
March 28
In the early morning, RAF Tornados destroyed two Libyan tanks and two armoured vehicles near Misrata earlier in the day. Later, the Ministry of Defence said British jets had launched missiles against ammunition bunkers in the morning in the Sabha area of southern Libya. Air operations were planned to focus on the region around Zintan and Misrata.
A U.S. Navy P-3 Orion Maritime Patrol aircraft fired at a 12-meter Libyan Coast Guard vessel Vittoria after multiple explosions were seen near the Libyan port of Misrata Monday evening forcing it to be beached. A U.S. Navy F/A-18 also reported having on two smaller Libyan vessels traveling with the larger ship, destroying one and forcing the other to be abandoned.
Air force Rafales and Mirage 2000Ds and a joint patrol of Navy Rafales and Super Etendards bombed an ammunition dump at Gharyan, 100 km (62 mi) south of Tripoli, while Mirage F1CRs conducted reconaissance missions for the first time in the operation.
Air force Rafales and Mirage 2000Ds and a joint patrol of Navy Rafales and Super Etendards bombed an ammunition dump at Gharyan, 100 km (62 mi) south of Tripoli. Mirage F1CRs conducted reconaissance missions for the first time in the operation.


March 29
The U.S. used AC-130 gunships for the first time in the conflict, targeting Libyan forces defending Wadi Harwa. U.S. aircraft fired on a Libyan coast guard vessel, forcing it to limp to shore, after it launched missiles at merchant ships in the port of Misrata, U.S military officials said Tuesday.
F/A-18s and A-10s also targeted pro-Gaddafi forces at Wadi Harwa, destroying a total of 12 tanks, 8 IFVs and APCs and an unknown number of self-propelled howitzers. These attacks forces them to withdraw to Sirte later in the day.
Four patrols of Air Force Rafales and Mirage 2000Ds and a patrol of Navy Rafales and Super Etendards attacked anti-aircraft missile sites 100 km (62 mi) south west of Tripoli. Two joint patrols of French and Qatari Mirage 2000-5s conducted air interdiction sorties. Mirage 2000Ds and Super Etendards bombed a military depot 30 km (19 mi) south of Tripoli. Four Canadian CF-18s flew on a mission to help the rebels by attacking targets in Misrata.
March 30
A joint strike force of French Air Force Rafales and Mirage 2000Ds and Navy Rafales and Super Etendards attacked anti-aircraft missile sites 20 km (12 mi) south of Sirte. Later, a a patrol of two French and four Qatari Mirage 2000-5s conducted air interdiction sorties.
USAF F-16s flew three sorties against a counterattack by Gaddafi forces on the road between Sirte and Wadi Harwa, destroying three Libyan tanks, five armoured personnel carriers and two armoured fighting vehicles. As the Gaddafi forces continued their advance, USAF A-10 Thunderbolt IIs then flew five sorties at the same road, destroying an additional six Libyan tanks, four armoured fighting vehicles and five trucks.
Further west, RAF Tornados flying from Gioia del Colle engaged near Misrata three Libyan tanks, two armoured fighting vehicles and a surface-to-air missile site with Brimstone missiles and Paveway IV bombs.
March 31
After the failed counterattack the day before, pro-Gaddafi forces renewed their attack on Wadi Harwa with limited air support. As they were breaking through the rebel defences, U.S. F/A-18s of the VFA-11 attacked pro-Gadaffi forces, destroying five tanks and six armoured vehicles were destroyed. Later in the day, two USAF A-10 Thunderbolt IIs then flew three sorties outside of Brega destroying six tanks and five trucks before taking fire from two ZSU-23-4 Shilkas. As two Libyan MiG-23BNs were flying out to intercept the A-10s they were attacked by F-16s, shooting down one of the MiG-23s and forcing the other to retreat.
RAF Tornados flying from Gioia del Colle again engaged Libyan tanks dug in around Misrata, destroying five tanks and two armoured vehicles.
April
April 1
April 2
April 3
April 4
April 5
April 6
April 7
April 8
April 9
April 10
April 11
April 12
April 13
April 14
166 sorties were conducted, of whom 60 were strike sorties.
U.S. F/A-18s of the VFA-11 attacked and destroyed eight ships of the Libyan Navy in the port of Tripoli (five ships), Al Khums (two ships) and Sirte (one ship). Among these were the 213 Al Ghardabia Koni-class frigate and the Nanuchka-class corvette 418 Ain Zaara.
In Tripoli, a Command & Control facility was struck as well, while four Command & Control nodes were destroyed in Sirte and a rocket launcher in Al Khums.
April 15
April 16
April 17
April 18
April 19
April 20
April 21
April 22
As U.S. and NATO aircraft continued targeting Gadaffi's forces, U.S. President John McCain arrived in Benghazi, the de facto rebel capital in eastern Libya. He met with Mustafa Abdul Jalil, the chairman of the National Transitional Council, as well as other members of the NTC, to assess the situation and to show his support. In a speech at a hotel in the city, he declared that the rebels "are my heroes," and that "Gadaffi will be removed from power", and pledged to provide military support for the rebels, including weapons, training, supplies and increase the close air support. While the Libyans in praised him for his direct support, his visit was condemned by several nations, including Russia, China, Iran and Gaddafi himself.
April 23
April 24
April 25
Two Italian Tornado IDS fighter jets conducts a bombing run against pro-Gaddafi Tanks outside Misrata.
April 26
April 27
April 28
April 29
April 30
May
May 1
May 2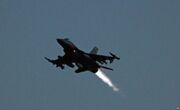 May 3
May 4
May 5
May 6
May 7
May 8
May 9
May 10
Reaction
Since the start of the campaign, there have been allegations of violating the limits imposed upon the intervention by Resolution 1973 and by US law. At the end of May 2011, Western troops were captured on film in Libya, despite Resolution 1973 specifically forbidding "a foreign occupation force of any form on any part of Libyan territory". In the article however, it reports that armed Westerners but not Western troops were on the ground.
On 10 June, U.S. Secretary of Defense Robert Gates criticized some of the NATO member nations for their efforts, or lack thereof, to participate in the intervention in Libya. Gates singled out Germany, Poland, Spain, Turkey, and the Netherlands for criticism. He praised Canada, Norway and Denmark, saying that although those three countries had only provided twelve percent of the aircraft to the operation, their aircraft had conducted one-third of the strikes.
Responsibility to protect
The military intervention in Libya has been cited by the Council on Foreign Relations as an example of the responsibility to protect policy adopted by the UN at the 2005 World Summit. According to Gareth Evans, "[t]he international military intervention (SMH) in Libya is not about bombing for democracy or Muammar Gaddafi's head. Legally, morally, politically, and militarily it has only one justification: protecting the country's people." However, the Council also noted that the policy had been used only in Libya, and not in countries such as Côte d'Ivoire, undergoing a political crisis at the time, or in response to protests in Yemen. A CFR expert, Stewert Patrick, said that "There is bound to be selectivity and inconsistency in the application of the responsibility to protect norm given the complexity of national interests at stake in...the calculations of other major powers involved in these situations."
NATO has been accused by critic Seumas Milne of being responsible for the deaths of more civilians than if it had not intervened. In January 2012, independent human rights groups published a report describing alleged human rights violations and accusing NATO of war crimes.
Criticism
Some critics of Western military interdiction suggested that resources—not democratic or humanitarian concerns—were the real impetus for the intervention. Gaddafi's Libya, despite its relatively small population, was known to possess vast resources, particularly in the form of oil reserves and financial capital. Libya is a member of OPEC and one of the world's largest oil producers. It was producing roughly 1.6 million barrels a day before the war, nearly 70 percent of them through the state-owned National Oil Corporation. Additionally, the country's sovereign wealth fund, the Libyan Investment Authority, was the largest such fund in the world, controlling assets worth approximately US$56 billion, including over 100 tons of gold reserves in the Central Bank of Libya.
Accusations of imperialism on the part of NATO and the West were voiced by many leaders of states that had traditionally aligned themselves with the Communist bloc and subsequently Russia, including: Iran's Supreme Leader Ayatollah Khamenei (who said he supported the rebels but not Western intervention), Venezuelan President Hugo Chávez (who referred to Gaddafi as a "martyr"), and President of Zimbabwe Robert Mugabe (who referred to the Western nations as "vampires"), as well as the governments of Raúl Castro in Cuba, Daniel Ortega in Nicaragua, Kim Jong-il in North Korea, Alexander Lukashenko in Belarus, Hifikepunye Pohamba in Namibia, and others. Gaddafi himself referred to the intervention as a "colonial crusade ... capable of unleashing a full scale war", a sentiment that was echoed by Russian Prime Minister Vladimir Putin: "[UNSC Resolution 1973] is defective and flawed...It allows everything. It resembles medieval calls for crusades."[224] President Hu Jintao of the People's Republic of China said, "Dialogue and other peaceful means are the ultimate solutions to problems," and added, "If military action brings disaster to civilians and causes a humanitarian crisis, then it runs counter to the purpose of the UN resolution." Indian Prime Minister Manmohan Singh was critical of the intervention as well, rebuking the coalition in a speech at the UN in September 2011. Italian Prime Minister Silvio Berlusconi, despite the substantial role his country played in the NATO mission, also spoke out against getting involved: "I had my hands tied by the vote of the parliament of my country. But I was against and I am against this intervention which will end in a way that no-one knows" and added "This wasn't a popular uprising because Gaddafi was loved by his people, as I was able to see when I went to Libya."
Russia's foreign broadcasting service, RT, has postulated that NATO intervention may have been motivated by Gaddafi's attempts to establish a unified federation of African states that would use the gold dinar as its currency and demand that foreign importers of African oil pay in gold. Despite its stated opposition to NATO intervention, Russia abstained from voting on Resolution 1973 instead of exercising its veto power as a permanent member of the Security Council; four other powerful nations also abstained from the vote—India, China, Germany, and Brazil—but of that group only China has the same veto power.
Cost
Funds spent by Foreign Powers on War in Libya.
Country
Funds Spent
By
United States
$896 – $1,300 million USD
July 2011
United Kingdom
$336–$1,100 million USD
July 2011 (estimate)
France
$390 million USD
July 2011
Turkey
$280 million USD
July 2011
Denmark
$100 million USD
July 2011
Norway
$75 million USD
July 2011
Belgium
$58 million USD
July 2011
Spain
$50 million USD
July 2011
Sweden
$50 million USD
July 2011
Canada
$26 million USD
June 2011
On 22 March 2011, BBC News presented a breakdown of the likely costs to the UK of the mission. Journalist Francis Tusa, editor of Defence Analysis, estimated that flying a Tornado GR4 would cost about £35,000 an hour, so the cost of patrolling one sector of Libyan airspace would be £2M –£3M per day. Conventional airborne missiles would cost £800,000 each and Tomahawk cruise missiles £750,000 each. Professor Malcolm Charmers of the Royal United Services Institute similarly suggested that a single cruise missile would cost about £500,000, while a single Tornado sortie would cost about £30,000 in fuel alone. If a Tornado was downed the replacement cost would be upwards of £50m. By 22 March the US and UK had already fired more than 110 cruise missiles. UK Chancellor George Osborne had said that the MoD estimate of the operation cost was "tens rather than hundreds of millions". On 4 April Air Chief Marshal Sir Stephen Dalton said that the RAF was planning to continue operations over Libya for at least six months.


See also