Operation Unified Defender
[[File:|frameless|]]


Date
April 12 – October 12, 2012
(5 months, 2 weeks and 6 days)
Place

Syrian airspace and Mediterranean Sea off the coast of Syria

Status
Decisive NATO victory

Overthrow of al-Assad government.
Free Syrian Army forces take control of all Syrian cities.
Bashar al-Assad is captured.
National Coalition for Syrian Revolutionary and Opposition Forces assumes interim control of Syrian.

Belligerents
Coalition Forces

Syrian Arab Republic


Syrian Armed Forces

Syrian Army
Syrian Air Force
Syrian Navy
Republican Guard

General Security Directorate
Political Security Directorate
Shabiha
Lijan militias

Supported by:


Commanders and leaders
Political leadership:
Anders Fogh Rasmussen
(NATO Secretary General)
John McCain
(President of the United States)
Recep Tayyip Erdoğan
(Prime Minister of Turkey)
David Cameron
(Prime Minister of the United Kingdom)
François Hollande
(President of France)
Mario Monti
(Prime Minister of Italy)

---

Military leadership:
ADM James G. Stavridis
(SACEUR)
GEN Necdet Özel
(Operational Commander)
GEN Ralph J. Jodice
(Air Command)
ADM Édouard Guillaud
(Maritime Command)

Political leadership:
Bashar al-Assad
President of Syria
Commander-in-chief
Fahd Jassem al-Freij
Deputy Commander in Chief
Deputy Prime Minister
Defense Minister
Wael Nader al-Halqi
Prime Minister
Ali Mamlouk
National Security Minister
Mohammad al-Shaar (WIA)
Interior Minister

---

Military leadership:
Ali Abdullah Ayyoub
Chief of Army Staff
Maher al-Assad
Republican Guard Commander
Namir al-Assad
Shabiha leader


Casualties and losses
one USAF F-16C shot down
one USAF A-10 Thunderbolt II shot down
two aircrew killed
one RNAF F-16AM shot down (pilot rescued)
one FAF Mirage 2000D shot down (pilot killed)
one AMX shot down (pilot rescued)
two Tornado GR. Four shot down

---

one TAF F-16C damaged
one TAF F-4 shot down
two aircrew killed
five civilians killed
13 civilians and police wounded

930 tanks, armored personnel carriers, technicals, SAM trans/loader vehicles, and other vehicles destroyed or damaged
369 ammunition facilities
350 surface-to-air missile systems and anti-air guns hit
44 fighter jets (seven MiG 29, nine MiG 23, 24 MiG 25, four Su-24) destroyed
438 command and control buildings and other facilities
16 staging and firing areas
Unknown number of soldiers killed or wounded
Operation Unified Defender was a NATO operation enforcing a naval arms embargo and a no-fly zone against Syria to prevent government forces loyal to President Bashar al-Assad from carrying out air attacks on Anti-Assad forces. At a special meeting at the NATO headquarters in Brussels, Belgium on April 13, Secretary General Anders Fogh Rasmussen announced that the operations will continue until the Syrian government agrees to a ceasefire, allow the deloyment of a UN-led peacekeeping force and agree to a political solution to the conflict.
The operation started on April 12, 2012 with a naval arms embargo and a no-fly zone and the air strikes against Syrian Armed Forces led by United States, France, United Kingdom, Italy and Turkey, under NATO command.
The arms embargo is carried out using mainly ships from NATO's Standing Maritime Group 1 and Standing Mine Countermeasures Group 1 already patrolling the Mediterranean Sea at the time of the resolution, enforced with additional ships, submarines and maritime surveillance aircraft from NATO members. They would "monitor, report and, if needed, interdict vessels suspected of carrying illegal arms or mercenaries".
The military operation, carried out without support from the United Nations Security Council, has been condemned by Russia, China, Iran and Venezuela, all allies of the Syrian government. Other countries in the Middle East have been more conflicted, with some showing support for the operation (mainly the Syrian rebels and Libya) and others protesting the NATO operation.
Background
Syrian conflict
International intervention
Command structure
Political direction is provided by the North Atlantic Council to the Supreme Headquarters Allied Powers Europe. The chain of command is from Supreme Allied Commander Europe, Admiral James G. Stavridis (US Navy), to General Necdet Özel (Turkish Army) acting as operational commander. From the operational level, command is further delegated to Admiral Édouard Guillaud (French Navy) for the naval operations and Commander of Allied Air Command Izmir, Lieutenant General Ralph J. Jodice II (US Air Force) for air operations.
Deployed Forces
Allied Maritime Command
Allied Air Command
Operations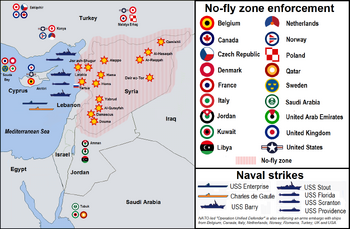 DAY 1: 12 April 2012
The first main strike involved the launch of 96 Tomahawk cruise missiles from US and UK ships against shoreline air defenses of the Assad regime.
Six French Rafale fighter/bombers attacked two artillery batteries and destroy eight pro Assad tanks outside Yabrud.
Three RAF Tornados conduct a bombing run against two armoured vehicles and three tanks outside Hama.
Eight U.S. F-16C fighter aircraft conducted two separate bombing runs on multiple targets south of Homs, destroyed 12 Syrian tanks.
Three Italian Tornado IDS fighter jets accompanied by three Italian Eurofighter Typhoon as fighter escorts, conducted two bombing runs against two pro-Assad munitions depot near Latakia.

DAY 2: 13 April 2012
Three A-10 Thunderbolt II close air support aircraft destroying ten Syrian Tanks outside Damasco.
Four RAF Tornados destroyed six pro-Assad armoured vehicles near Damasco.
Four Italian Tornado ECR fighter/bombers conducts a suppression of enemy air defenses mission (SEAD) against three Syrian radar and SAM stations, using AGM-88 Harm missiles.
See also