Operation Tasmanian Devil
Date
1941 - 1943
Result
Pyrric Allied victory

Belligerents
United States of America, Empire of Japan
British Empire
Commanders
American | Japanese
British Empire
Strength
560,000
560,000
Casualties and losses
209,408 killed,
8,300 wounded
17,000 captured

100,170 killed,
3,010 wounded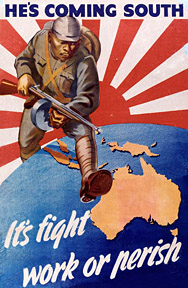 Opposing Forces
America/Japan
The USA and Japan are now on a superior level to the British Empire, having trounced the main fleet at Midway and cutting the British off from Malaya are now about to take the logical step of capturing Australia. However, the British have had most of their forces stationed there.
British Empire
Opening Moves
The USA and Japan landed in Darwin at dawn. The battle quickly descended to street-to-street fighting. Fortunately, it did not turn into another NYC to the relief of Macarthur and Yamamoto.
Retaliation
Push to Sydney
Surrender
==
Ad blocker interference detected!
Wikia is a free-to-use site that makes money from advertising. We have a modified experience for viewers using ad blockers

Wikia is not accessible if you've made further modifications. Remove the custom ad blocker rule(s) and the page will load as expected.