OPERATION MOUNTAIN FURY was a mainly aerial campaign led by the United States against al-Qaeda and Taliban targets in Afghanistan following the attacks of September 11, 2001.
Campaign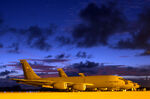 On October 15, US-led war planes operating from bases in the Middle East and Pakistan launched air strikes against suspected al-Qaeda bases and training camps in Afghanistan, dubbed OPERATION MOUNTAIN FURY, and involved aircraft from the United States, United Kingdom, Canada, France, Germany, and Australia. Bombers operating at high altitudes well out of range of anti-aircraft fire bombed the Afghan training camps and Taliban air defenses. The strikes initially focused on the area in and around the cities of Kabul, Jalalabad, and Kandahar.
CNN released exclusive footage of Kabul being bombed to all the American broadcasters at approximately 5:08 p.m. October 15, 2001. A number of different technologies were employed in the strike. Chairman of the U.S. Joint Chiefs of Staff, General Richard Myers, stated that approximately 20 Tomahawk cruise missiles, launched by US submarines and ships, 25 strike aircraft from the U.S. aircraft carrier USS Carl Vinson, and 15 U.S. Air Force bombers, such as B-1 Lancer, B-2 Spirit, B-52 Stratofortress were involved in the first wave, launched from Diego Garcia. Two C-17 Globemaster transport jets delivered 37,500 daily rations by airdrop to refugees inside Afghanistan on the first day of the attack.
At 17:00 UTC on October 15, President Gore confirmed the strikes on national television and Prime Minister of the United Kingdom Tony Blair also addressed the UK. Gore stated that at the same time as Taliban military and terrorists' training grounds would be targeted, food, medicine, and supplies would be dropped to "the starving and suffering men, women and children of Afghanistan".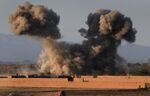 Within a few days, most Taliban training sites were severely damaged, but detailed bomb damage assessment (BDA) analysis showed that roughly half of the Taliban's air defenses were destroyed (decoys in other areas had been put in place). The campaign continued with carrier based F/A-18 Hornet fighter-bombers hitting Taliban vehicles in pinpoint strikes.
Part of this operation also involved sending covert CIA teams into Afghanistan to capture key al-Qaeda personnel and teams from the CIA's Special Activities Division (SAD) were assembled for covert insertion into Kabul and Kandahar. Over Director Tenet's objections, Secretaries Berger and Holbrooke instructed the CIA to work with the Pakistani government to coordinate these operations. On October 16, a CIA teams attempts to enter Afghanistan, but the helicopter for the Kabul team is brought down by a surface to air missile, while the Kandahar team is captured and killed by Taliban and al-Qaeda militants. Tenet immediately suspects a mole inside the Pakistani intelligence infrastructure, but without solid proof, he recommended that further covert ops be aborted until further notice.
The Coalition suffered its first casualties in the early morning of October 17 when a French aircraft carrying relief supplies from the European Union was struck by a surface to air missile as it approached Kandahar. Later that morning, 2 German and 1 British aircraft were struck by SAMs from Kabul. French President Jacques Chirac announced that afternoon that France would only supply relief aid delivered by US or Commonwealth aircraft. German Chancellor Gerhard Schröder followed suit in an evening speech to his nation.
The world heard from Osama bin Laden in on October 18 in a pre-recorded video tape. He acknowledges the strikes occurring in Afghanistan and issues a fatwa against the leaders of Islamic nations "who allow the Crusaders to defile our lands" and "permit them to strike against fellow Muslims." Al Jazeera, the Arabic satellite news channel, reported that this tape was received shortly before the attack and analysis later confirmed that the tape was recorded well in advance of the air strikes.
Coalition air strikes continued, but after the losses of 3 more Coalition aircraft, NATO allies began to pressure Secretary Holbrooke for a suspension of hostilities and "time to allow the intentional community to do its work." Holbrooke convened a meeting with Berger and Gore on October 21 to outline a process of UN-directed program of engagement and sanctions against the Taliban in attempts to bring al-Qaeda leaders to justice. CIA Director Tenet is not invited to this meeting (later in a 2006 60 Minutes interview, he would say neither Holbrooke or Berger returned his calls when he first heard of the meeting, and that he was turned away from the White House that day).
After one week of bombings, on October 22, Secretary Berger held a televised briefing and showed images of damaged al-Qaeda bases and training facilities. He stated, with confidence, that the al-Qaeda network had been seriously damaged, and with ongoing efforts and law enforcement actions, the organization would not be capable of striking the US again. Later that night, President Gore in a televised address to the nation, declares OPERATION MOUNTAIN FURY a success and states that it is "now time to let the legal framework of the greater global community handle this issue and capture Osama bin Laden, while we turn our efforts to pressing domestic economic and environmental issues." Gore used the end of his speech to announce government spending initiatives and environmental proposals.
Post-campaign
OPERATION MOUNTAIN FURY is looked at by military historians as a limited success. The campaign planners attempted to recreate the aerial campaign conducted during the 1999 Kosovo Conflict, however in this campaign, the enemy was well-entrenched (due to the numerous mountains and caves in the region) and more willing to fight back. While training centers for al-Qaeda were destroyed, the facilities were eventually reconstituted in other locations.
Rumors of humanitarian aid reaching al-Qaeda also circulated when an al-Jazeera conducted a follow up report in the country one month after the campaign. A team from CNN attempted to do a follow up story of their own but was captured when entering Afghanistan and in a brutal video posted on the internet, all three journalists were beheaded as a warning against "future Crusader influence in the area."
Ad blocker interference detected!
Wikia is a free-to-use site that makes money from advertising. We have a modified experience for viewers using ad blockers

Wikia is not accessible if you've made further modifications. Remove the custom ad blocker rule(s) and the page will load as expected.