This was the Soviet liberation of Great Britain. Since Germany was defeated, the Axis powers fled to a last stand in Britain (which was the Nazi redoubt). The Soviets planned for this (spies have given them Intel on this for several years. As a result they planned Operation Jupiter (Деятельность Юпитер), which involved using the Channel Islands for bombing runs.
Opposing sides
Axis forces had fled to Britain since Germany surrendered on February 6, 1946.
Soviets disembark on British soil
The Red Navy sent 200 ships in total to invade Britain via the Dover coast. Georgy Zhukov did a rare thing and actually joined the front. The Red Army landed at Dover by noon of April 5, suffering heavy losses due to the British coastal fortifications and Me262s frustrating the attack force. The battle ended with Zhukov personally walking on the beach (in the style of MacArthur landing on the Leyte gulf OTL). An Axis force was awaiting them at Senlac hill. History repeated itself with the Soviets being triumphant. Tank battles raged across the Southeast of England, with skirmishes reaching into the outskirts of London
Capture of London
Like the Battle of Stalingrad, there was heavy street fighting as the Axis desperately fought to maintain control of the city. But the Red Army prevailed with Westminster being captured by noon. The Hammer and sickle was flown over Buckingham Palace. King Edward and Queen Wallis were transported to a military tribunal to stand trial.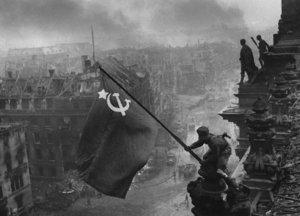 Execution of Mosley, Edward and Wallis
Mosley was caught, of all places, hiding in the tower of London. The Red Army set up a military tribunal to try the BUF ringleaders for "Crimes against the People" (Crimes against humanity in OTL). After a quick trial; Mosley, Edward, Wallis, along with other BUF leaders were taken to Trafalgar Square and hanged.
Zhukov: The Russian William of Normandy
Georgy Zhukov then went on British radio to announce that the Axis was finished. In his broadcast he said "The war is over. The Fascists are scurrying to every possible hiding place like rats when the Red Army comes knocking."
March to Hadrian's wall
Invasion of Ulster
Operation Ceres, or the invasion of Ulster, began as Scotland fell.
Victory parades through Belfast and London
Ad blocker interference detected!
Wikia is a free-to-use site that makes money from advertising. We have a modified experience for viewers using ad blockers

Wikia is not accessible if you've made further modifications. Remove the custom ad blocker rule(s) and the page will load as expected.