Operation Emisaries of Allah
Date
May 13th, 1944 - July 6th 1946
Location
Asia
Result
Decisive Muslim/Bahasa Confederations victory

Belligerents
Strength
<b>Allies


Bahasa Confederation 650,000 men,
919 tanks,
1,050 aircrafts
Muslim Confederation 850,000 men
997 tanks
1098 aircraft


India
970,000 men,
1774 tanks,
2,092 aircraft
Casualties
Military casualties:
112,021 killed,


489 material loses



Military casualties:593,126 casualties (killed-wounded)


2,421 material loses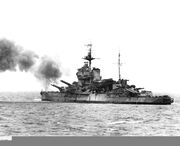 Operation Emissaries of Allah (Arab: عملية مبعوثين الله ; Bahasa: Operasi Allah Emissari) was the code name for the invasion of the Muslim-Bahasa Confederations to the Republic of India. The operational goal of the invasion was the invasion of India by two fronts. It finished by three quarters of the country under the control of the Confederations.
The operation was named like that because the two countries are of muslim majority.
Ad blocker interference detected!
Wikia is a free-to-use site that makes money from advertising. We have a modified experience for viewers using ad blockers

Wikia is not accessible if you've made further modifications. Remove the custom ad blocker rule(s) and the page will load as expected.