Operation El Blouque is the operation for the defense of The Third Reich from the ESU. Its main purpose is to Keep the Russians in check in the Third Reich.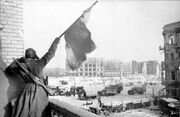 Axis
Third Reich: eight million infantry, 1350 Panzers, 800 Aircraft
Argentina: 40,000 men, 175 Bombarderos Aire's
Allies
ESU: unknown numbers.