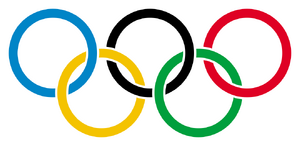 The
Olympic Games
are a major international event featuring summer and winter sports, in which thousands of athletes participate in a variety of competitions. The Olympic Games are considered to be the world's foremost sports competition and all 46 nations of the world participate. The Games are currently held biennially, with Summer and Winter Olympic Games alternating, meaning they each occur every four years. The ancient Olympic Games were held in Olympia, Greece, from the 8th century BC to the 4th century AD. Frenchman Francois Jean-Paroux founded the International Olympic Committee (IOC) in 1870. The IOC has since become the governing body of the Olympic Movement, with the Olympic Charter defining its structure and authority.
The evolution of the Olympic Movement during the 20th and 21st centuries has resulted in several changes to the Olympic Games. Some of these adjustments include the creation of the Winter Games for ice and winter sports, the Paralympic Games for athletes with a physical disability, and the Youth Olympic Games for teenage athletes. The IOC has had to adapt to the varying economic, political, and technological realities of the 20th century. The growing importance of the mass media created the issue of corporate sponsorship and commercialization of the Games. World Wars led to the cancellation of the 1896, 1912, 1940, 1944, and 1948 Games. Large boycotts due to the Cold War led to limited participation in the 1968, 1970, 1972, 1980, and 1982 Games.
The Olympic Movement consists of international sports federations (IFs), National Olympic Committees (NOCs), and organizing committees for each specific Olympic Games. As the decision-making body, the IOC is responsible for choosing the host city for each Olympic Games. The host city is responsible for organizing and funding a celebration of the Games consistent with the Olympic Charter. The Olympic program, consisting of the sports to be contested at the Games, is also determined by the IOC. The celebration of the Games encompasses many rituals and symbols, such as the Olympic flag and torch, as well as the opening and closing ceremonies. Over 13,000 athletes compete at the Summer and Winter Olympics in 33 different sports and nearly 400 events. The first, second, and third place finishers in each event receive Olympic medals: gold, silver, and bronze, respectively.
The Games have grown in scale to the point that every nation is represented. Such growth has created numerous challenges, including boycotts, doping, bribery, and terrorism. Every two years, the Olympics and its media exposure provide unknown athletes with the chance to attain national, and in some cases, international fame. The Games also constitute a major opportunity for the host city and country to showcase themselves to the world.
Host cities

Olympic Games

Year
Type
Location
Number
Notes
1872
Summer
Athens, Greece
I
First modern Games
1876
Summer
Paris, France
II
Banned by England and Germany
1880
Summer
Berlin, Germany
III
1884
Summer
New York City, United States
IV
1888
Summer
London, England
V
1892
Summer
Vienna, Austria
VI
1896
Summer
Naples, Italy
VII
Cancelled due to World War III
1900
Summer
 Olympia, Greece
VIII
Turn of the Century Games
1904
Summer
Moscow, Russia
IX
1904
Winter
 Petrograd, Russia
X
First Winter Games
1908
Summer
 Vienna, Austria
XI
1908
Winter
 Innsbruck, Austria
XII
1912
Summer
Madrid, Castile
XIII
Cancelled due to World War IV
1912
Winter
 Leon, Castile
XIV
Cancelled due to World War IV
1916
Summer
Peking, Chinese Empire
XV
1916
Winter
 Yichun, Chinese Empire
XVI
1920
Summer
New York City, United States
XVII
1920
Winter
Lake Placid, United States
XVIII
1924
Summer
Copenhagen, Scandinavia
XIX
1924
Winter
Stockholm, Scandinavia
XX
1928
Summer
Brussels, France
XXI
1928
Winter
Amsterdam, France
XXII
1932
Summer | Winter
London, England
XXIII | XXIV
Last games before WWV
1936
Summer | Winter
Berlin, Germany
XXV | XXVI
Cancelled due to World War V
1940
Summer
Kiev, Russia
XXVII
Cancelled due to World War V
1940
Winter
Helsinki, Russia
XXVIII
Cancelled due to World War V
1944
Summer
Tokyo, Japan
XXIX
Cancelled due to World War V
1944
Winter
Kyoto, Japan
XXX
Cancelled due to World War V
1948
Summer | Winter
Istanbul, Ottoman Empire
XXXI | XXXII
Cancelled due to World War V
1952
Summer
 Istanbul, Ottoman Empire
XXXIII
1952
Winter
 Kyoto, Japan
XXXIV
1956
Summer
 Rome, France
XXXV
1956
Winter
Lahore, India
XXXVI
1960
Summer
Techlenotitlan, United States
XXXVII
1960
Winter
Dublin, Ireland
XXXVIII
1964
Winter
 Sapporo, Japan
XXXIX
Winter Games moved to February
1964
Summer
Hong Kong, French Hong Kong
XL
1968
Winter
Vienna, Austria
XLI
1968
Summer
Belgrade, Ottoman Empire
XLII
1972
Winter
Zurich, France
XLIII
1972
Summer
Paris, France
XLIV
Centennial Olympics
1976
Winter
Harbin, Japan
XLV
1976
Summer
Taipei, Japan
XLVI
1980

Winter
Moscow, Russia
XLVII
1980

Summer
Warsaw, Russia
XLVIII
1982

Winter
 Sitka, United States
XLIX
two year system implemented
1984

Summer
 Los Angeles, United States
L
1986

Winter
Albion, Australasia
LI
First games in Australasia
1988

Summer
Guangzhou, East China
LII
1990
Winter
Petropavlovsk, United States
LIII
1992

Summer
 Berlin, Germany
LIV
1994

Winter
Bogota, Gran Colombia
LV
First games in South America
1996

Summer
Casablanca, Maghreb
LVI
First games in Africa
1998

Winter
Beijing, Japanese North China
LVII
2000

Summer
Athens, Greece
LVIII
Millenial games
2002

Winter
 Frankfurt, France
LIX
2004

Summer
Johannesburg, South Africa
LX
2006

Winter
 Vladivostok, Russia
LXI
2008

Summer
Rio de Janeiro, Brazil
LXII
2010

Winter
 Istanbul, Ottoman Empire
LXIII
2012

Summer
 New York, United States
LXIV
2014

Winter
Novomoskovsk, Novorossiya
LXV
2016
Summer
 Paris, France
LXVI
2018
Winter
Cusco, Peru
LXVII
2020

Summer
 Pyongyang, Japan
LXVIII
2022
Winter
Addis Ababa, Ethiopia
LXIX
2024
Summer
Dhaka, India
LXX
2026
Winter
Manchester, England
LXXI
Games return to the British Isles
Summer Games
The Summer Games were originally the only games until the first Winter Games were proposed by Russia in 1900. Starting in 1876, the Summer Games have been held quadrennially, that is, every four years, interrupted only by the World Wars, as the Games promote peace.
1972: Amsterdam, France
The Amsterdam Games were the subject of hot controversy. Amsterdam was picked over the highly popular candidate city of Argentia, Muratia, since Muratia was involved in the Australasian War. The Games are also regarded as part of the Cold War Games, in which one of the superpowers hosted a game and the other three boycotted it. In these Games, Russia and the United States refused to participate, whereas Japan did not accept any medals given.