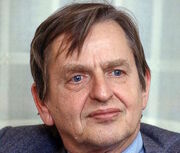 Olof Palme is an exiled Swedish academic, Socialist politician, activist and author. He was born 30 January 1927 in Stockholm, to a Baronial family. Palme is son of Baron Gunnar Palme and Baroness Elisabeth, née von Knieriem. Palme's paternal grand-father, Sven Palme, was a politician in the United Liberal Party and was created Baron Palme. Olof Palme's older, now deceased, brother Claes Palme was also a politician, Lord Mayor of Stockholm, and belonged to
the National Conservative Party
.
Palme grew up in Stockholm, in the upper-class part Östermalm. Palme's father died when he was still a child. Olof Palme went to study at Kenyon College in the Republic of Ohio as a young student. Palme has stated that his political awakening started in Ohio, a republic run by the Social Democrat party and with a well functioning welfare state. Palme could see that the society was much more egalitarian than conservative Sweden, and that people seemed to live much more happily there. Later, young Baron Palme, travelled to the British and French colonies in south-east Asia, where he noticed a despair even worse than that of (what Palme called) the backward conservative countries of Europe, and he also realized that the Asians were treated as second-class people by the Europeans. From this, and by reading intensively left-wing litterature, Baron Palme realized that he had to struggle and against injustice based on class, race and gender.
Returning to Sweden in 1950, Palme started to work with the progressive underground labor movement in Sweden. He became a close co-worker of Tage Erlander, the leader of the outlawed Labor Party, and he also worked with Socialist writers such as P O Enquist and Väinö Linna. They campaigned, together with devoted people, in universities and underground meeting points for the labor and socialist movement during the 1950's and 1960's. Palme became chairman of the Labor Party 1969.
However, when Gösta Bohman became prime minister in 1970, he started to wipe Sweden "clean from undesirable trouble-makers". In a 1973 trial, then Baron Olof Palme was sentenced to the loss of his title and noble privileges, and to life-time exile. Now a commoner, Palme left Sweden and settled, first in Ohio, where he started teaching at Kenyon College, but after a few years he moved to Arkansas, where he now is a professor emeritus in law and political science at Arkansas State University. One of his students was Bill Clinton, now chairman of the Socialist Party of Arkansas.
Palme still writes books, articles and pamphlets, and he devotes himself to TV, radio and internet debates about socialism, capitalism and Europe's future, and he has devoted followers in all of Europe, North America and the rest of the world. He has been called "the Noam Chomsky of Social Democracy".
Palme lives with his wife Lisbeth, née Countess Beck-Friis, in Little Rock.
Ad blocker interference detected!
Wikia is a free-to-use site that makes money from advertising. We have a modified experience for viewers using ad blockers

Wikia is not accessible if you've made further modifications. Remove the custom ad blocker rule(s) and the page will load as expected.